Justus Köhncke and the Wonderful Frequency Band Review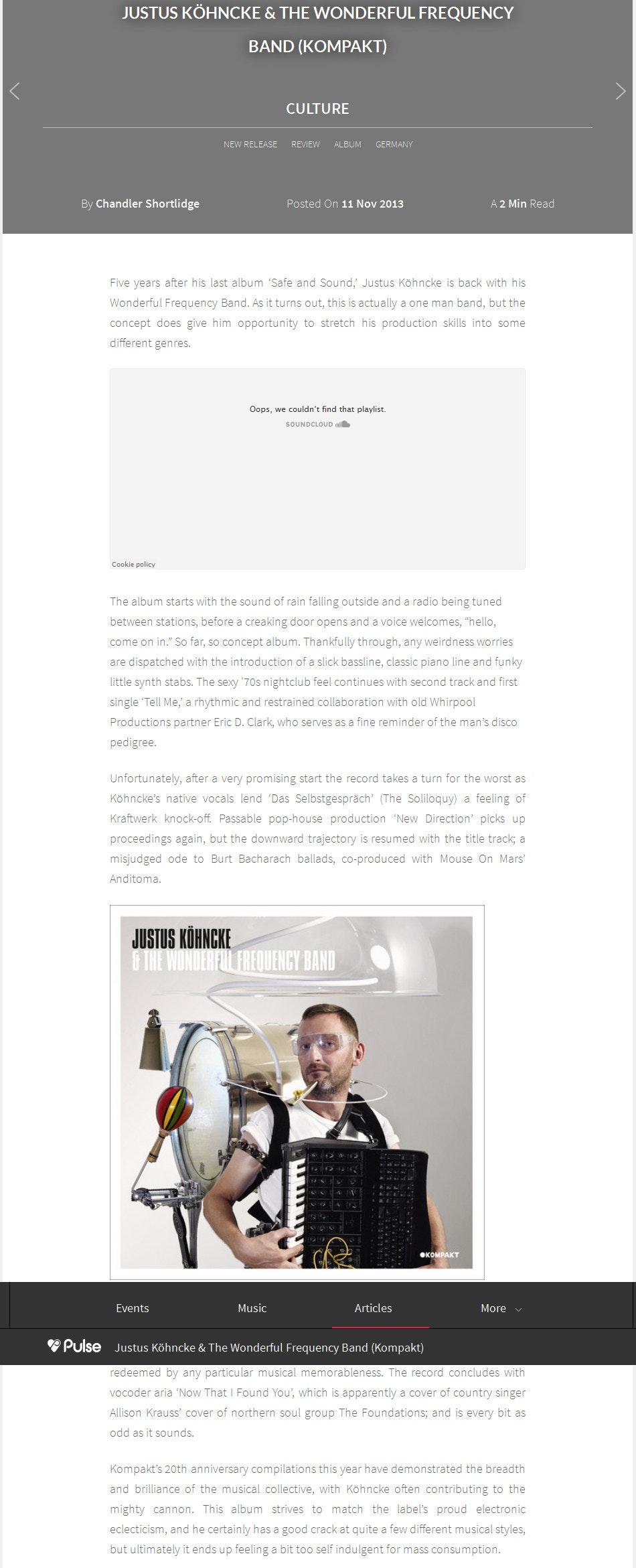 Original article here
Five years after his last album 'Safe and Sound', Justus Köhncke is back with the Wonderful Frequency Band. As it turns out, this is a one man band, but the concept does give him opportunity to stretch his production skills into some different genres.

The album starts with the sound of rain falling outside and a radio being tuned between stations, before a creaking door opens and a voice welcomes, "hello, come on in," so far, so concept album. Thankfully through, and weirdness worries are dispatched with a slick bassline, classic piano line and funky little synth stabs. The sexy 70s nightclub feel continues with second track and first single 'Tell Me', a rhythmic and restrained collaboration with old Whirpool Productions partner Eric D. Clark that serves as a fine reminder of the man's disco pedigree.
After a great start the record takes a turn for the worst with Köhncke's native vocals lending 'Das Selbstgespräch' (The Soliloquy) a Kraftwek knock-off feel. 'New Direction' redeems proceedings somewhat, but things are back on a downward trajectory with the title track being a misjudged ode to Burt Bacharach ballads, co-produced with Mouse On Mars' Anditoma.
The man's penchant for promoting German language electro rears its head again on 'Idee, Pozess, Ergebnis' (Idea, Process, Result), 'Loop' and 'Unaufmerksamkeitsblindheit' (Inattentional Blindness), neither of which are saved by any particular musical memorableness. The record concludes with vocoder aria 'Now That I Found You', a cover of country singer Allison Krauss' cover of northern soul group The Foundations, which sounds every bit as odd as it does on paper.
Kompakt's 20th anniversary compilations have demonstrated the breadth and brilliance of the musical collective, and this album attempts to match this electronic eclecticism, but unfortunately falls quite a way short.