Bill Brewster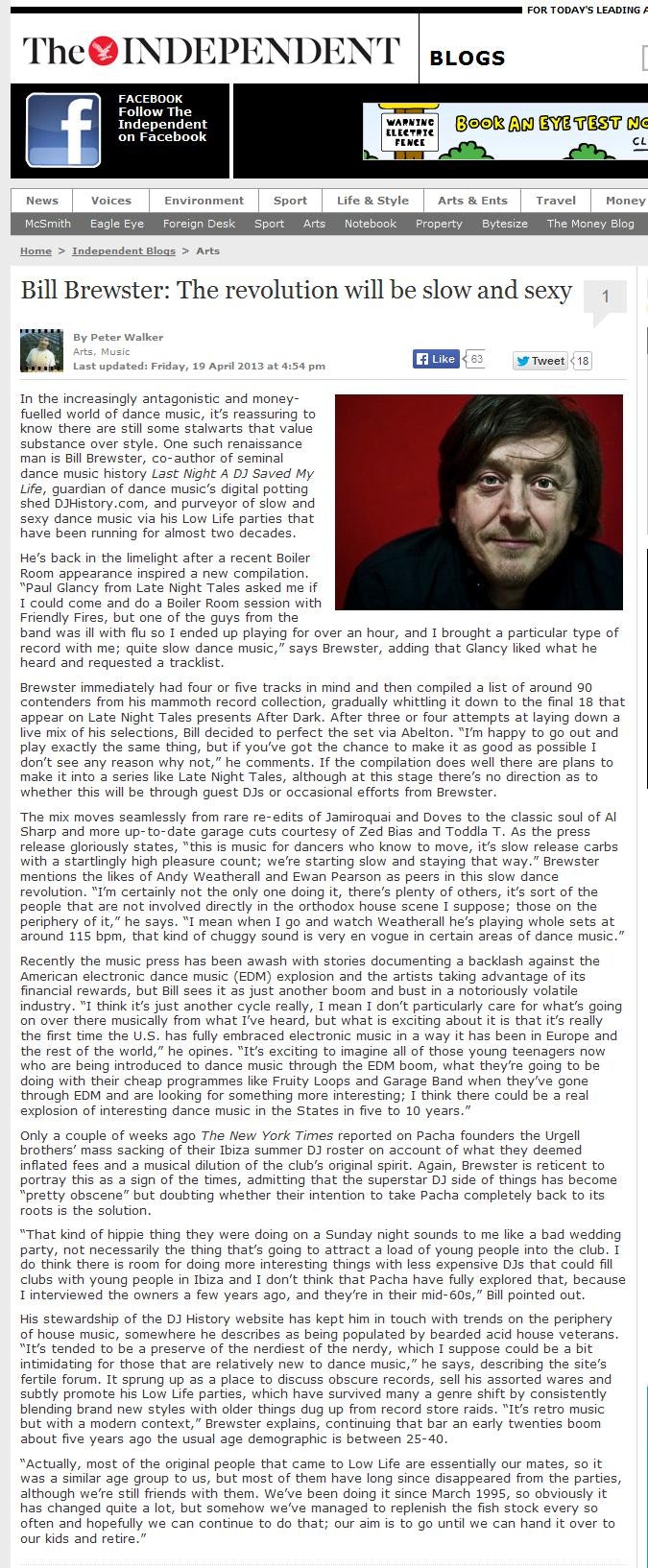 Brewster: The Revolution Will Be Slow and Sexy
In the increasingly antagonistic and money-fuelled world of dance music, it's reassuring to know there are still some stalwarts that value substance over style. One such renaissance man is Bill Brewster, co-author of seminal dance music history Last Night A DJ Saved My Life, guardian of dance music's digital potting shed DJHistory.com and purveyor of slow and sexy dance music via his Low Life parties that have been running for almost two decades. He's back in the limelight after a recent Boiler Room appearance inspired a new compilation. "Paul Glancy form Late Night Tales asked me if I could come and do a Boiler Room session with Friendly Fires, but one of the guys from the band was ill with flu so I ended up playing for over an hour, and I brought a particular type of record with me; quite slow dance music," says Brewster, adding that Glancy liked what he heard and requested a tracklist.
http://boilerroom.tv/bill-brewster-70-min-mix/
Brewster immediately had four or five tracks in mind and then compiled a list of around 90 contenders from his mammoth record collection, gradually whittling it down to the final 18 that appear on Late Night Tales presents After Dark. After three or four attempts at laying down a live mix of his selections, Bill decided to perfect the set via Abelton. "I'm happy to go out and play exactly the same thing, but if you've got the chance to make it as good as possible I don't see any reason why not," he comments. If the compilation does well there are plans to make it into a series like Late Night Tales, although at this stage there's no direction as to whether this will be through guest DJs or occasional efforts from Brewster.
The mix moves seamlessly from rare re-edits of Jamiroquai and Doves to the classic soul of Al Sharp and more up-to-date garage cuts courtesy of Zed Bias and Toddla T. As the press release gloriously states, "this is music for dancers who know to move, it's slow release carbs with a startlingly high pleasure count; we're starting slow and staying that way." Brewster mentions the likes of Andy Weatherall and Ewan Pearson as peers in this slow dance revolution. "I'm certainly not the only one doing it, there's plenty of others, it's sort of the people that are not involved directly in the orthodox house scene I suppose; those on the periphery of it," he says. "I mean when I go and watch Weatherall he's playing whole sets at around 115 bpm, that kind of chuggy sound is very en vogue in certain areas of dance music."
Recently the music press has been awash with stories documenting a backlash against the American electronic dance music (EDM) explosion and the artists taking advantage of its financial rewards, but Bill sees it as just another boom and bust in a notoriously volatile industry. "I think it's just another cycle really, I mean I don't particularly care for what's going on over there musically from what I've heard, but what is exciting about it is that it's really the first time the U.S. has fully embraced electronic music in a way it has been in Europe and the rest of the world," he opines.
"It's exciting to imagine all of those young teenagers now who are being introduced to dance music through the EDM boom, what they're going to be doing with their cheap programmes like Fruity Loops and Garage Band when they've gone through EDM and are looking for something more interesting; I think there could be a real explosion of interesting dance music in the States in 5-10 years."
Just last week the New York Times reported on Pacha founders the Urgell brothers' mass sacking of their Ibiza summer DJ roster on account of what they deemed inflated fees and a musical dilution of the club's original spirit. Again, Brewster is reticent to portray this as a sign of the times, admitting that the superstar DJ side of things has become "pretty obscene" but doubting whether their intention to take Pacha completely back to its roots is the solution.
"That kind of hippy thing they were doing on a Sunday night sounds to me like a bad wedding party, not necessarily the thing that's going to attract a load of young people into the club. I do think there is room for doing more interesting things with less expensive DJs that could fill clubs with young people in Ibiza and I don't think that Pacha have fully explored that, because I interviewed the owners a few years ago, and they're in their mid-60s and just not very in touch with what's going on in dance music," Bill pointed out.
His stewardship of the DJ History website has kept him in touch with trends on the periphery of house music, somewhere he describes as being populated by bearded acid house veterans. "It's tended to be a preserve of the nerdiest of the nerdy, which I suppose could be a bit intimidating for those that are relatively new to dance music," he says, describing the site's fertile forum. It sprung up as a place to discuss obscure records, sell his assorted wares and subtly promote his Low Life parties, which have survived many a genre shift by consistently blending brand new styles with older things dug up from record store raids.
"It's retro music but with a modern context," Brewster explains, continuing that bar an early twenties boom about five years ago the usual age demographic is between 25-40. "Actually, most of the original people that came to Low Life are essentially our mates, so it was a similar age group to us, but most of them have long since disappeared from the parties, although we're still friends with them. We've been doing it since March 1995, so obviously it has changed quite a lot, but somehow we've managed to replenish the fish stock every so often and hopefully we can continue to do that; our aim is to go until we can hand it over to our kids and retire."