Daniel Avery: Living in a Phantasy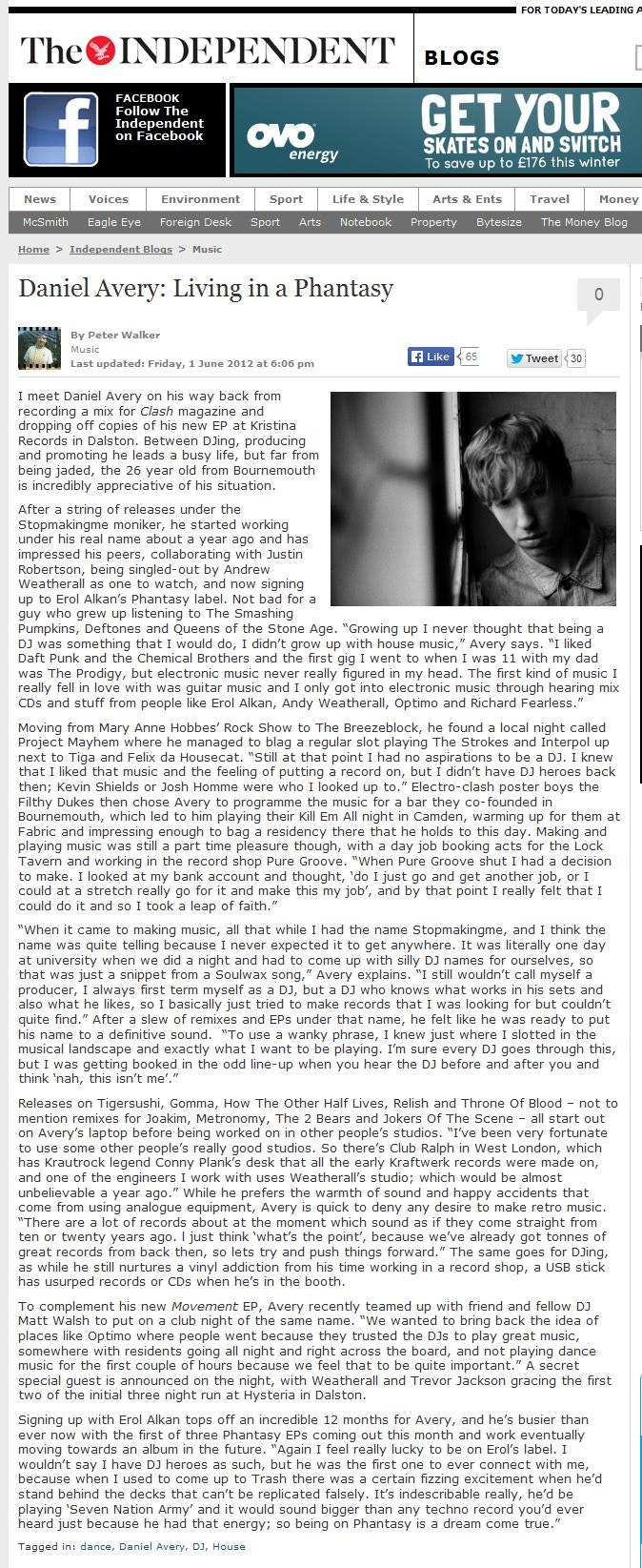 I meet Daniel Avery on his way back from recording a mix for Clash Magazine and dropping off copies of his new EP at Kristina Records in Dalston. Between DJing, producing and promoting he leads a busy life, but far from being jaded, the 26 year old from Bournemouth is incredibly appreciative of his situation.
After a string of releases under the Stopmakingme moniker, he started working under his real name about a year ago and has impressed his peers, collaborating with Justin Robertson, being singled-out by Andrew Weatherall as one to watch, and now signing up to Erol Alkan's Phantasy label. Not bad for a guy who grew up listening to The Smashing Pumpkins, Deftones and Queens of the Stone Age. "Growing up I never thought that being a DJ was something that I would do, I didn't grow up with house music," Avery says. "I liked Daft Punk and the Chemical Brothers and the first gig I went to when I was 11 with my Dad was The Prodigy, but electronic music never really figured in my head. The first kind of music I really fell in love with was guitar music and I only got into electronic music through hearing mix CDs and stuff from people like Erol Alkan, Andy Weatherall, Optimo and Richard Fearless."
Moving from Mary Anne Hobbes' Rock Show to The Breezeblock, he found a local night called Project Mayhem where he managed to blag a regular slot playing The Strokes and White Stripes up next to Tiga and Felix da Housecat. "Still at that point I had no aspirations to be a DJ. I knew that I liked that music and the feeling of putting a record on, but I didn't have DJ heroes back then; Kevin Shields or Josh Homme who I looked up to." Electro-clash poster boys the Filthy Dukes then chose Avery to programme the music for a bar they co-founded in Bournemouth, which led to him playing their Kill Em All night in Camden, and in turn saw him warming up for them at Fabric. He impressed enough to be made resident there and three years later he mentions that an entry to the club's hallowed mix CD cannon is slated for 2013. Making and playing music was still a part time pleasure though, with a day job booking acts for the Lock Tavern and working in the record shop Pure Groove. "When Pure Groove shut I had a decision to make. I looked at my bank account and thought, 'do I just go and get another job, or I could at a stretch really go for it and make this my job', and by that point I really felt that I could do it and so I took a leap of faith."
"When it came to making music, all that while I had the name Stopmakingme, and I think the name was quite telling because I never expected it to get anywhere. It was literally one day at university when we did a night and had to come up with silly DJ names for ourselves, so that was just a snippet from a Soulwax song," Avery explains. "I still wouldn't call myself a producer, I always first term myself as a DJ, but a DJ who knows what works in his sets and also what he likes, so I basically just tried to make records that I was looking for but couldn't quite find." After a slew of remixes and EPs under that name, he felt like he was ready to put his name to a definitive sound. "To use a wanky phrase, I knew just where I slotted in the musical landscape and exactly what I want to be playing. I'm sure every DJ goes through this, but I was getting booked in the odd line-up when you hear the DJ before and after you and think 'nah, this isn't me'."
Releases on Tigersushi, Gomma, How The Other Half Lives, Relish and Throne Of Blood – not to mention remixes for Joakim, Metronomy, The 2 Bears and Jokers Of The Scene – all start out on Avery's laptop before being worked on in other people's studios. "I've been very fortunate to use some other people's really good studios. So there's Club Ralph in West London, which has Krautrock legend Conny Plank's desk that all the early Kraftwerk records were made on, and one of the engineers I work with uses Weatherall's studio; which would be almost unbelievable a year ago." While he prefers the warmth of sound and happy accidents that come from using analogue equipment, Avery is quick to deny any desire to make retro music. "I won't name names, but I do think there are a few producers right now who are making stuff as if it could be straight out of 1984 or whatever, l just think 'what's the point' because we've already got tonnes of great records from back then, so lets try and push things forward." The same goes for DJing, as while he still nurtures a vinyl addiction from his time working in a record shop, a USB stick has usurped records or CDs when he's in the booth.
To complement his new Movement EP, Avery recently teamed up with friend and fellow DJ Matt Walsh to put on a club night of the same name. "We wanted to bring back the idea of places like Optimo where people went because they trusted the DJs to play great music, somewhere with residents going all night and right across the board, and not playing dance music for the first couple of hours because we feel that to be quite important." A secret special guest is announced on the night, with Weatherall turning up to inaugurate the first of three events at Hysteria in Dalston.
Signing to Phantasy tops off an incredible 12 months for Avery, with an aim over the next 12 to slow down a bit and work towards a possible LP to follow the Need Electric EP out this month. "Again I feel really lucky to be on Erol's label. I wouldn't say I have DJ heroes as such, but he was the first one to ever connect with me, because when I used to come up to Trash there was a certain fizzing excitement when he'd stand behind the decks that can't be replicated falsely. It's indescribable really, he'd be playing Seven Nation Army and it would sound bigger than any techno record you'd ever heard just because he had that energy. So being on Phantasy is a dream come true."