Dixon and the Temporary Pleasure of Digital Downloads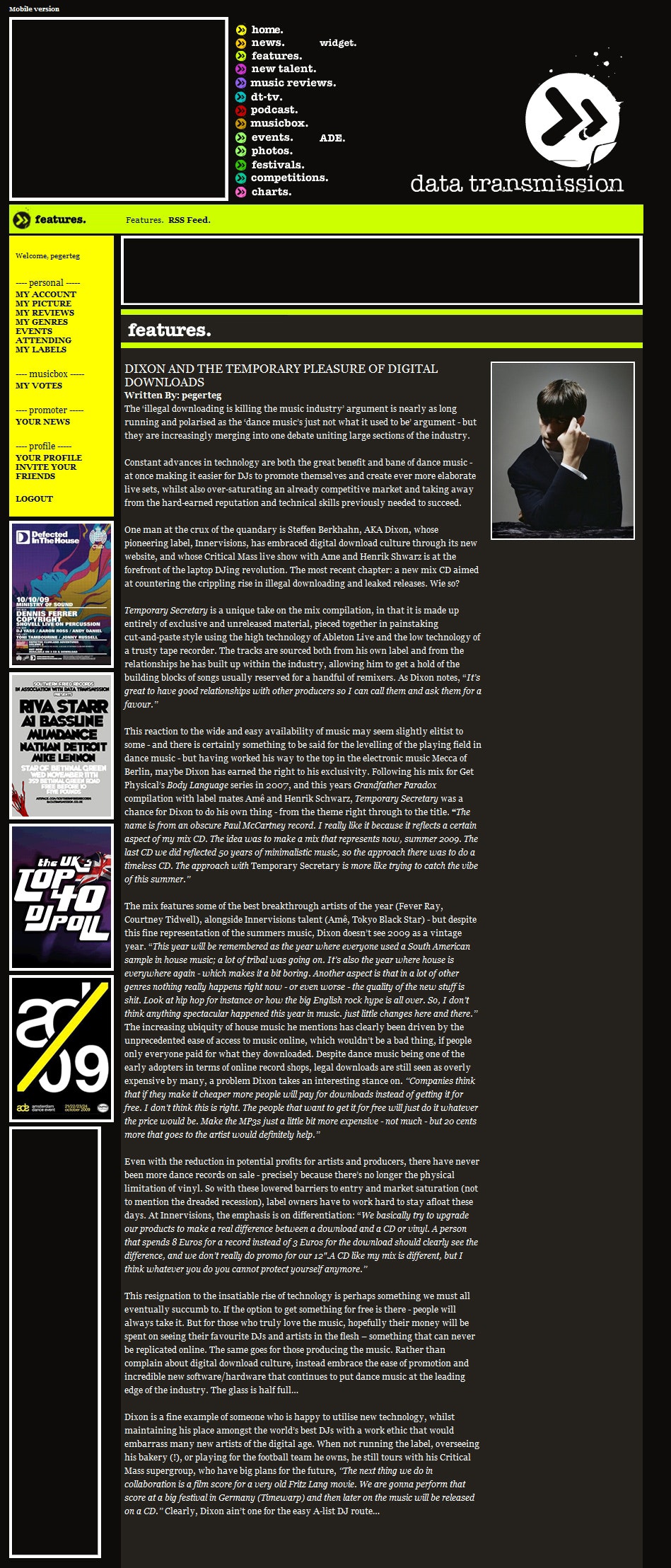 The 'illegal downloading is killing the music industry' argument is nearly as long running and polarised as the 'dance music's just not what it used to be' argument, but they are increasingly merging into one debate uniting large sections of the industry.

Constant advances in technology are both the great benefit and bane of dance music, at once making it easier for DJ's to promote themselves and create ever more elaborate live sets, whilst also over saturating an already competitive market and taking away from the hard earned reputation and technical skills previously needed to succeed.
One man at the crux of the quandary is Steffen Berkhahn, AKA Dixon. Whose pioneering label, Innervisions, has embraced digital download culture through its new website, and whose Critical Mass live show with Ame and Henrik Shwarz is at the forefront of the laptop DJ'ing revolution; but who is also releasing a new mix CD aimed at countering the crippling rise in illegal downloading and leaked releases.
'Temporary Secretary' is a unique take on the mix compilation, in that it is made up entirely of exclusive and unreleased material, pieced together in painstaking cut and paste style using the high tech of Ableton Live and the low tech of a trusty tape recorder. The tracks are taken from his own label and the relationships he has built up within the industry, allowing him to get a hold of the building blocks of songs usually reserved for a handful of remixers. As Dixon notes, "It's great to have good relationships with other producers so I can call them and ask them for a favour."
This reaction to the wide and easy availability of music may seem slightly elitist to some, and there is certainly something to be said for the levelling of the playing field in dance music, but having worked his way to the top in the electronic music Mecca of Berlin, maybe Dixon has earned the right to his exclusivity.
Following his mix for Get Physical's 'Body Language' series in 2007, and this years 'Grandfather Paradox' compilation with label mates Amê and Henrik Schwarz, 'Temporary Secretary' was a chance for Dixon to do his own thing, from the theme to the title. "The name is from an obscure Paul McCartney record. I really like it because it reflects a certain aspect of my mix CD. The idea was to make a mix that represents now, summer 2009. The last CD we did reflected 50 years of minimalitic music, so the approach there was to do a timeless CD. The approach with 'Temporary Secretary' is more like trying to catch the vibe of this summer.
The mix features some of the best breakthrough artists of the year, like Fever Ray and Courtney Tidwell, alongside Innervisions talent like Amê and Tokyo Black Star, but despite this fine representation of the summers music, he doesn't see 2009 as a vintage year. "This year will be remembered as the year where everyone used a South American sample in house music; a lot of tribal was going on. It's also the year where house is everywhere again - which makes it a bit boring. Another aspect is that in a lot of other genres nothing really happens right now - or even worse - the quality of the new stuff is shit. Look at hip hop for instance or how the big English rock hype is all over. So, I don't think anything spectacular happened this year in music. just little changes here and there."
The increasing ubiquity of house music he mentions has clearly been driven by the unprecedented ease of access to music online, which wouldn't be a bad thing, if people only everyone paid for what they downloaded. Despite dance music being one of the early adopters in terms of online record shops, legal downloads are still seen as overly expensive by many, a problem Dixon takes an interesting stance on. "Companies think that if they make it cheaper more people will pay for downloads instead of getting it for free. I don't think this is right. The people that want to get it for free will just do it whatever the price would be. Make the mp3s just a little bit more expensive - not much - but 20 cents more that goes to the artist would definitely help."
Even with the reduction in potential profits for artists and producers, there have never been more dance records made - precisely because there are no physical records made – with vinyl increasingly replaced by mp3's and WAV files. So with these lowered barriers to entry, market saturation, not to mention the dreaded recession, label owners have to work hard to stay afloat these days. At Innervisions the emphasis is on differentiation, "We basically try to upgrade our products to make a real difference between a download and a CD or vinyl. A person that spends 8 Euros for a record instead of 3 Euros for the download should clearly see the difference, and we don't really do promo for our 12". A CD like my mix is different, but I think whatever you do you cannot protect yourself anymore."
This resignation to the insatiable rise of technology is perhaps something we must all eventually succumb to, if the option to get something for free is there, people will always take it. But for those who truly love the music, hopefully their money will be spent on seeing their favourite DJ's and artists live – something that can never be replicated online. The same goes for those producing the music, rather than complain about digital download culture, instead embrace the ease of promotion and incredible new software/hardware that continues to put dance music at the leading edge of the industry.
Dixon is a fine example of someone who is happy to utilise new technology, whilst maintaining his place amongst the world's best DJ's with a work ethic that would embarrass many new artists of the digital age. When not running the label, overseeing his bakery, or playing for the football team he owns, he still tours with his Critical Mass supergroup, who have big plans for the future, "The next thing we do in collaboration is a film score for a very old Fritz Lang movie. We are gonna perform that score at a big festival in Germany (Timewarp) and then later on the music will be released on a CD."