FabricLive 57: Jackmaster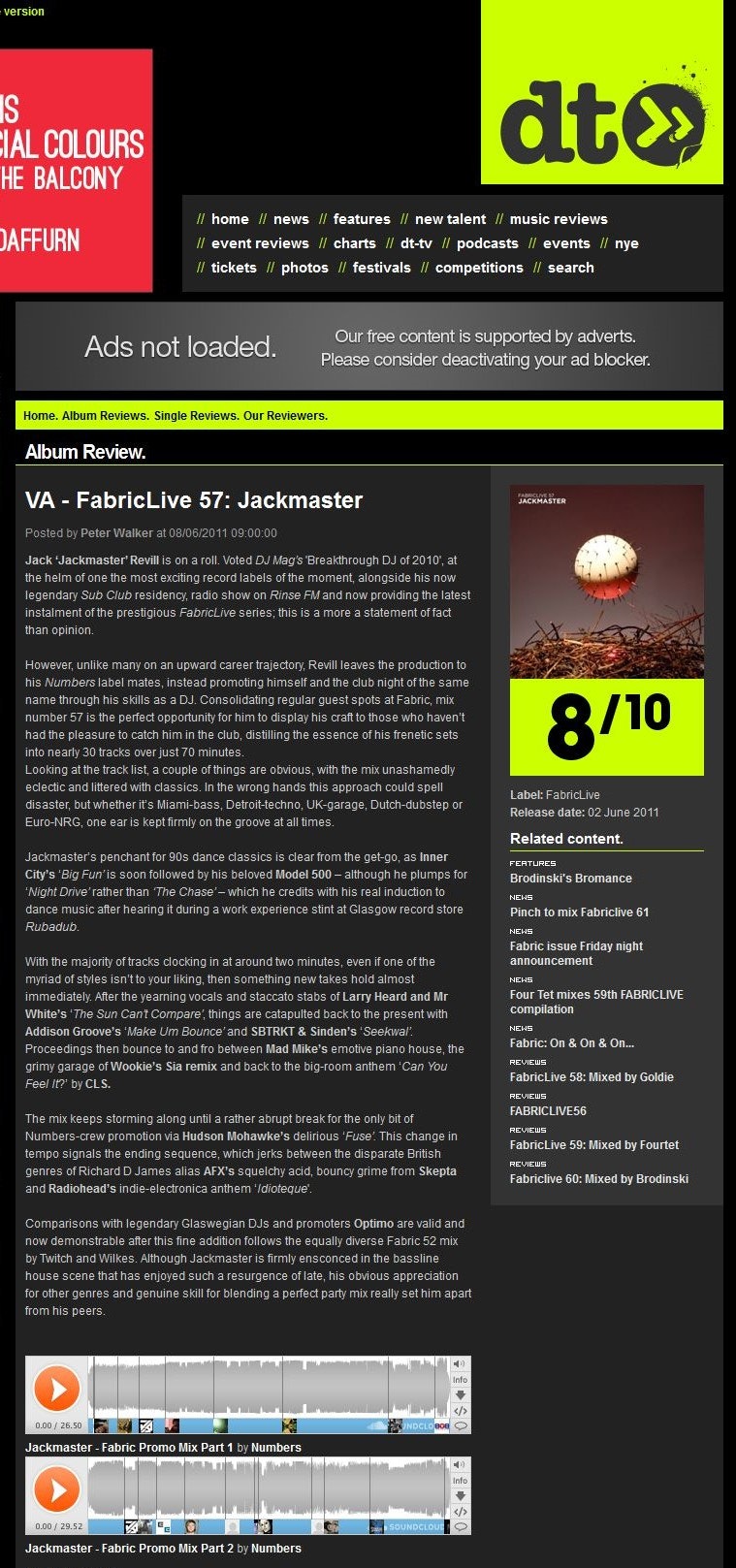 Jack 'Jackmaster' Revill is on a roll. Voted DJ Mag's Breakthrough DJ of 2010, at the helm of one the most exciting record labels of the moment, alongside his now legendary Sub Club residency, show on Rinse FM and now providing the latest instalment of the prestigious FabricLive series; this is a more a statement of fact than opinion.
However, unlike many on an upward career trajectory, Revill leaves the production to his Numbers label mates, instead promoting himself and the club night of the same name through his skills as a DJ. Consolidating regular guest spots at Fabric, mix number 57 is the perfect opportunity for him to display his craft to those who haven't had the pleasure to catch him in the club; distilling the essence of his frenetic sets into nearly 30 tracks over just 70 minutes.
Looking at the track list, a couple of things are obvious, the mix is unashamedly eclectic and littered with classics. In the wrong hands this approach could spell disaster, but whether it's Miami-bass, Detroit-techno, UK-garage, Dutch-dub step or Euro-NRG, one ear is kept firmly on the groove at all times.
Jackmaster's penchant for 90s dance classics is clear from the get-go, as Inner City's 'Big Fun' is soon followed by his beloved Model 500 – although he plumps for 'Night Drive' rather than 'The Chase' – which he credits with his real induction to dance music after hearing it during a work experience stint at Glasgow record store Rubadub.
With the majority of tracks clocking in at around two minutes, even if one of the myriad of styles isn't to your liking, then something new takes hold almost immediately. After the yearning vocals and staccato stabs of Larry Heard and Mr White's 'The Sun Can't Compare', things are catapulted back to the present with Addison Groove's 'Make Um Bounce' and SBTRKT & Sinden's 'Seekwal'. Proceedings then bounce to and fro between Mad Mike's emotive piano house, the grimy garage of Wookie's Sia remix and back to the big-room anthem 'Can You Feel It?' by CLS.
The mix keeps storming along until a rather abrupt break for the only bit of Numbers-crew promotion via Hudson Mohawke's delirious 'Fuse'. This change in tempo signals the ending sequence, which jerks between the disparate British genres of Richard D James alias AFX's squelchy acid, bouncy grime from Skepta and Radiohead's indie-electronica anthem 'Idioteque'.
Comparisons with legendary Glaswegian DJs and promoters Optimo are valid and now demonstrable after this fine addition follows the equally diverse Fabric 52 mix by Twitch and Wilkes. Although Jackmaster is firmly ensconced in the bassline house scene that has enjoyed such a resurgence of late, his obvious appreciation for other genres and genuine skill for blending a perfect party mix, really set him apart from his peers.