M8 | Audio Bullys – Generation & Tiefshwarz – Eat Books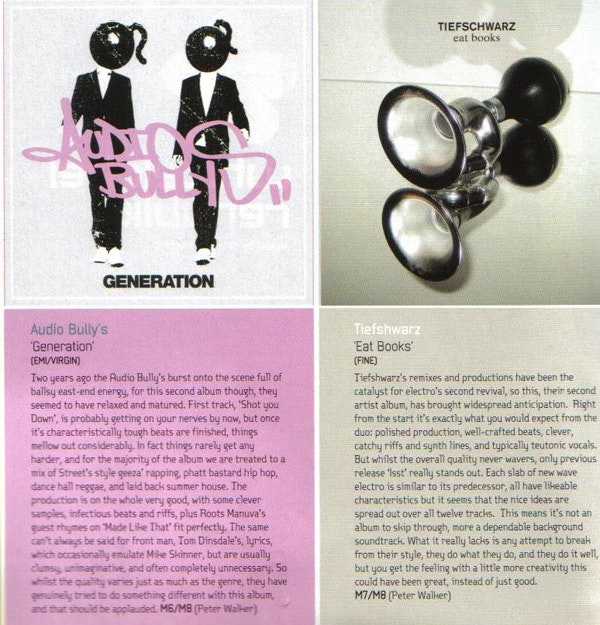 Audio Bullys – Generation

Two years ago the Audio Bullys burst onto the scene full of ballsy east-end energy, for this second album though, they seemed to have relaxed and matured. First track, 'Shot you Down', probably insights an automatic groan response by now, but once it's tough beats are finished, things mellow out considerably. In fact things rarely get any harder, and for the majority of the album we are treated to a mix of Street's style geezer' rapping, phatt bastard hip hop, dance hall reggae, and laid back summer house. New single 'I'm in Love' being the perfect example of this eclecticism, fans of the last album will be outraged by its downright wussy-ness, but I suspect the Bully's are trying to attract a wider audience this time round, and this blatant ladies tune will do just that.
The production is on the whole very good, with some clever samples, infectious beats and riffs, and the surprise inclusion of Roots Manuva's guest vocals on personal favourite 'Made Like That', which fit perfectly. The same can't always be said for front man, Tom Dinsdale's, lyrics, which occasionally emulate Mike Skinner, but are usually clumsy, unimaginative, and often completely unnecessary. So whilst the quality varies just as much as the genre, they have genuinely tried to do something different with this album, and that should be applauded.
Tiefshwarz – Eat Books
Tiefshwarz's remixes and productions have been the catalyst for electro's second revival, so this, their second artist album, has brought widespread anticipation. Right from the start it's exactly what you would expect from the duo: polished production, well-crafted beats, clever, catchy riffs and synth lines, and typically Teutonic vocals. But whilst the overall quality never wavers, only previous release 'Isst' really stands out. Each slab of new wave electro is similar to its predecessor, all have likeable characteristics but it seems that the nice ideas are spread out over all twelve tracks. This means it's not an album to skip through, more a dependable background soundtrack.
What it really lacks is any attempt to break from their style, they do what they do, and they do it well, but you get the feeling with a little more creativity this could have been great, instead of just good.