M8 | Princess Superstar – My Machine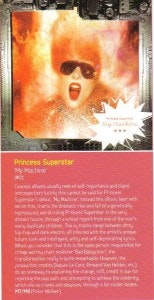 Princess Superstar – My Machine
Concept albums usually reek of self-importance and bland introspection; luckily this cannot be said for Princess Superstar's debut, My Machine.
Instead this album, bear with me on this, charts the dramatic rise and fall of a genetically reproduced, world ruling Princess Superstar in the very distant future, through a school report from one of the star's many duplicate children. Now that may all seem like utter nonsense, and essentially it is, but the various skits throughout the album, charting this story, fit in perfectly with the future pop Superstar has created.
The 25 tracks range between dirty hip-hop and dark electro, all infected with the artist's unique future funk and intelligent, witty and self-deprecating lyrics. When you consider that this is the same person responsible for cringe worthy chart molester 'Bad Babysitter' the transformation really is quite remarkable. However, the production credits (Jaques Le Cont, Armand Van Helden, etc.) do go someway to explaining the change, still, credit is due for rejecting the pop path and attempting to achieve the celebrity, which she so craves and despises, through a far cooler means.