Damian Lazarus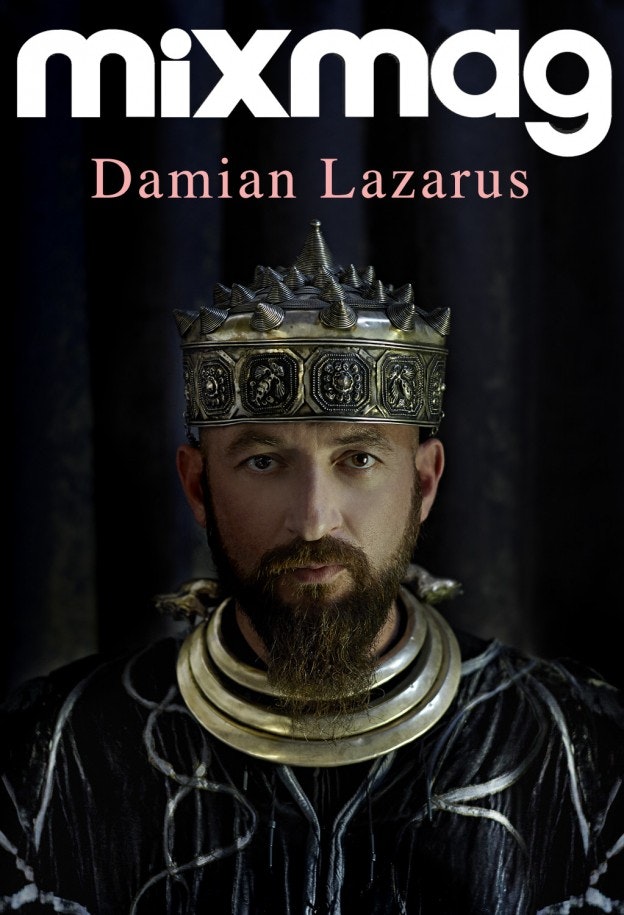 Lazarus looks in his element among the artists and promoters that have become his second family over the last decade or so, finally getting the chance to relax as one of the biggest and busiest years of his life draws to an end. With still a few months to go, 2015 has seen him record, release and develop a successful live show for his new album and band, whilst propelling multiple labels to new heights, holding down one of Ibiza's busiest residencies and proposing to his now pregnant fiancée.
Tonight sees him playing one of the biggest parties in the Amsterdam Dance Event line-up, with Loveland transforming a TV studio out by the docks into a three room rave. He cuts a mysterious figure, gliding through the backstage like some kind of trendy shamen, with a long black beard complementing a long black sleeveless t-shirt/dress, leather cap and his favourite poncho. Visibly filling and already rammed room with his presence behind the decks, Damian begins to cast a spell with fresh cuts like Recondite's 'Ley' and 'Mirror Me' by Maceo Plex, along with some new and potential signings for Crosstown and Rebellion.
Playing what he earlier described to a few inquisitive Dutch ladies as "psychedelic, trippy techno", both the next act Kerri Chandler and the capacity crowd appear to appreciate his blend of soulful and sexy sounds. Finishing with Four Tet's soaring remix of Chvrches and his very own contender for track of the year, 'Vermillion', Lazarus looks genuinely touched by the reaction he receives when it's finally time to hand over.
It is this kind of moment that has kept him going over the few decades of ups and downs in the music business, with the few years in particular seeing the development of a deeper connection to his friends, family and fans. "In all honesty it has been one of the toughest, but at the same time successful and satisfying periods in my career. For something I've been doing for a over decade, this year specifically, all the sets have had a real energy within the crowd, so I feels like I've really connected," he confides.
Of course, it wasn't always so spiritual. Born into East London in the Seventies, Damian was close to his grandfather, a fan of vaudeville musicals, which meant him and his brothers would take star turn for the family in their front room. His cousin helped foster a love of music, schooling him in 80s hip-hop and electro, as well as the art of buying records. By 14 he owned a pair of Technics and an old Numark mixer, bagging local residencies and hanging out with the DJs on Kiss FM, back when it was still a pirate station.
At college, Damian's girlfriend fell pregnant and he decided it was time for a real job to support the child, falling into local journalism via a knack for coaxing stories out of people. "I think that having my daughter so young was a pretty major thing in my life, I was 19 at the time and that set me on a path, having to be a father and start a career really moulded me. There were difficulties in not being able to have her with me through her life, but it helped me in terms of personal growth and understanding the importance of being able to pay attention to human emotion."
In amongst stuffy old suits, the young Lazarus bagged many a scoop and was signed up by the Sun as one of their youngest ever crime reporters. After a few years on the tabloids – he recalls packing a change of clothes and sneaking out to clubs on the pretence of catching the cast of Eastenders up to no good – Damian blagged his way into the music press, becoming assistant editor at Dazed & Confused magazine at 21. This led in turn to being offered a job doing A&R for Pete Tong's London Records offshoot FFRR, where he met Phil Howells, who would become his partner in setting up the City Rockers label in 2001.
For the next few years that imprint was at the forefront of the electroclash sound, signing era-defining albums like Felix Da Housecat's 'Kittenz and Thee Glitz', singles like Tiga and Jori Hulkkonen's version of 'Sunglasses At Night' and mixing the seminal Futurism compilations. Running the short-lived but influential 21st Century Body Rockers night in London Bridge got him back into DJing and caught the attention of The Rapture and James Murphy's DFA crew in New York and the likes of Get Physical and BPitch Control in Berlin.
As City Rockers was absorbed by Ministry Of Sound in 2003 he jumped ship, taking same initials and creating Crosstown Rebels. The new label had less of an obvious genre hook than the last, but Lazarus brought some fun and funk to a period when minimal house reigned. Landmark releases like James Holden's mix of André Kraml's 'Safari', that Suck My Deck mix for Bugged Out and parties at London's fabled T Bar further built his reputation.
It wasn't all plain sailing though, as the physical music market was decimated by digital and one distributor after another went out of business. Basically bankrupt, Damian was faced with a big decision about his and the label's future. But surrounded by exciting young artists like Deniz Kurtel, Art Department and Maceo Plex, he kept going with an underground spirit that has developed into numerous sub-labels and regular parties.
Being in the game for so long, he's seen bandwagons come and go, with Crosstown's sound moving in and out of the limelight. "We were maybe at our peak around 2011, so of course there's only one way from there," says Lazarus. "I was aware of that though, as something similar had happened with City Rockers, there was the same tension post electro-clash. There are always people happy to build you up, who are often the same ones trying to look cool by bringing you down a peg or two. We had a couple of years of being left out in the cold, but we were still consistently putting out amazing music and our fans have stuck with us."
In 2007 he decided to make his own music, learning how to use Logic and gradually pouring influences into debut album Smoke the Monster Out, released on Get Physical two years later, so as not to clash with debut LPs from his aforementioned Crosstown protégés. "I think the first album was a bit self indulgent to be honest, obviously you want to throw all your influences and inspirations into the pot and there's no-one looking over your shoulder telling you what to do, so I just fucking went for it – sampling old jungle records, doing some show tunes, calling upon Scott Walker and Neil Diamond."
With that out of his system, Lazarus started to draw inspiration from the people and places around him. Moving to Los Angeles in 2009, he became obsessed with South and Central America, and a few years later had a moment that led to one of his most adventurous projects to date – an epic 24-hour rave at the Playa Del Carmen in Mexico on December 21st – the 'Day Zero' which the Mayans believe signals an ending life cycle.
"I started the Day Zero event because of this big spiritual awakening in me. I had just had some surgery and went to a shaman, who gave me instructions on when and where to stand under the moon. I followed them on my own and basically connected myself to the cosmos, feeling vibrations through my entire being," explains Damian. "It had such a profound effect on me that I realised I had to act on it – musically, professionally, personally. I think it started me on the road to being a bit more present and aware of other people's needs, as well as what I was doing to myself every weekend. Because my friends, the Circoloco and Get Lost guys, when we convene and play music in Miami or Mexico, it gets pretty hardcore, we've been partying for a long time."
"I just needed to wake up and take the opportunity to connect what I do to nature a bit more, so trying to DJ in the mountains or on the beach, soundtracking the sunrise or sunset. All these ideas began to translate into a new album."
If this all sounds a bit far out, then you'd be right, but fear not, he's managed to retain a sense of humour and mates who can rib him when required. "I've learned to take the piss out of myself royally; it's one of my favourite pastimes. There was a time I did take myself far too seriously and everything was driven by the ego," Lazarus says, adding that a decade with the Circoloco crew has given him a sense of family, while fostering the careers of people like Seth Troxler and Jamie Jones has imbued some fatherly maturity.
However, with a gap in Crosstown's release schedule, he knew this was the time to concentrate on his own music again. Once there were some solid ideas, lyrics and track titles, Damian chose Simian Mobile Disco's James Ford to make sure production was perfect and then started calling interesting musicians he had met on his travels. These included Egyptian percussionist Hossam Ramzy, US jazz pianist Eric Lewis, Mozambican guitarist Neco Novellas, some qawwali singers from Pakistan and LA-based songwriter Moses Sumney.
Initial sessions were recorded in London, with the final stint created over a few days at a former hippie commune just outside Mexico City; captured in the latest Rebel Rave episode. The resulting record was described by Mixmag as "a musical melting pot, with all manner of live instrumentation worked into Mayan mantras, pattering micro-house and tribal soundclashes". There's a moment captured on David Terranova's short film that captures Damian's "lightbulb moment" asking James whether the album could work in a live setting. This developed into the Ancient Moons proper, with a rainy and ramshackle first gig forming part of this year's Day Zero event in January.
As for the rest of this hectic year, March saw the 10th anniversary of the Get Lost parties in Miami, something which began as a Winter Music Conference afterhours session for a couple of hundred people and this year saw a few thousand people, 30 artists and three areas. "The vibe we created was second to none and that really helped galvanise how the year was going to go, the energy and friendship made me very excited about the future," says Lazarus.
The release of 'Message From The Other Side' came with a reception that even the not-short-on-Cockney-confidence Damian was even taken aback by. "I wasn't prepared for it, because putting out so many releases over so many years, you get used to negative vibes now and again, but the feedback to be so overwhelmingly positive." This led to a BBC session at Maida Vale studios for the band and a second Essential Mix as a DJ.
The summer was taken by spots at Glastonbury – "we were up against artists I really wanted to see, but 5,000 people still turned up and it was really special" – and Wilderness – "playing before Bjork, which was a massive privilege". Then the people behind Cirque Du Soleil wanted the band to play three shows at their new Ibiza venue, Heart. "I was a bit sceptical about it at the beginning, not wanting to play more than one night or cede too much control, but prior to that we got asked to play at the International Music Summit and we smashed it that night, so the reaction reminded me how important Ibiza has been for me and we immediately agreed to do it."
Next up would have been the annual pilgrimage to Burning Man, but a few days before going Damian found out his girlfriend was pregnant and immediately proposed, putting priorities firmly back in line. Playing the closing set at DC-10 went some way to make up for missing out on the Playa, but he reckons it was a sign that despite the hectic schedule, there is some kind of balance returning to his life. The happy couple bought an old monastery in Tuscany in 2014 and things recently came full circle, as following becoming a granddad a few years back, his daughter got married earlier this year.
"It's all been pretty crazy. I've made some amazing growth personally as well as professionally,"he says, adding "I don't know what possessed me to start this band, but I'm really happy that I did." Somewhat prosaically, their next single is 'We Will Return', as they plan to do exactly that at the start of 2016, getting in the studio to work on the next album. Damian Lazarus is easily one of the busiest men in dance music, and doesn't look like slowing down anytime soon.