The Next Big Thing From Tring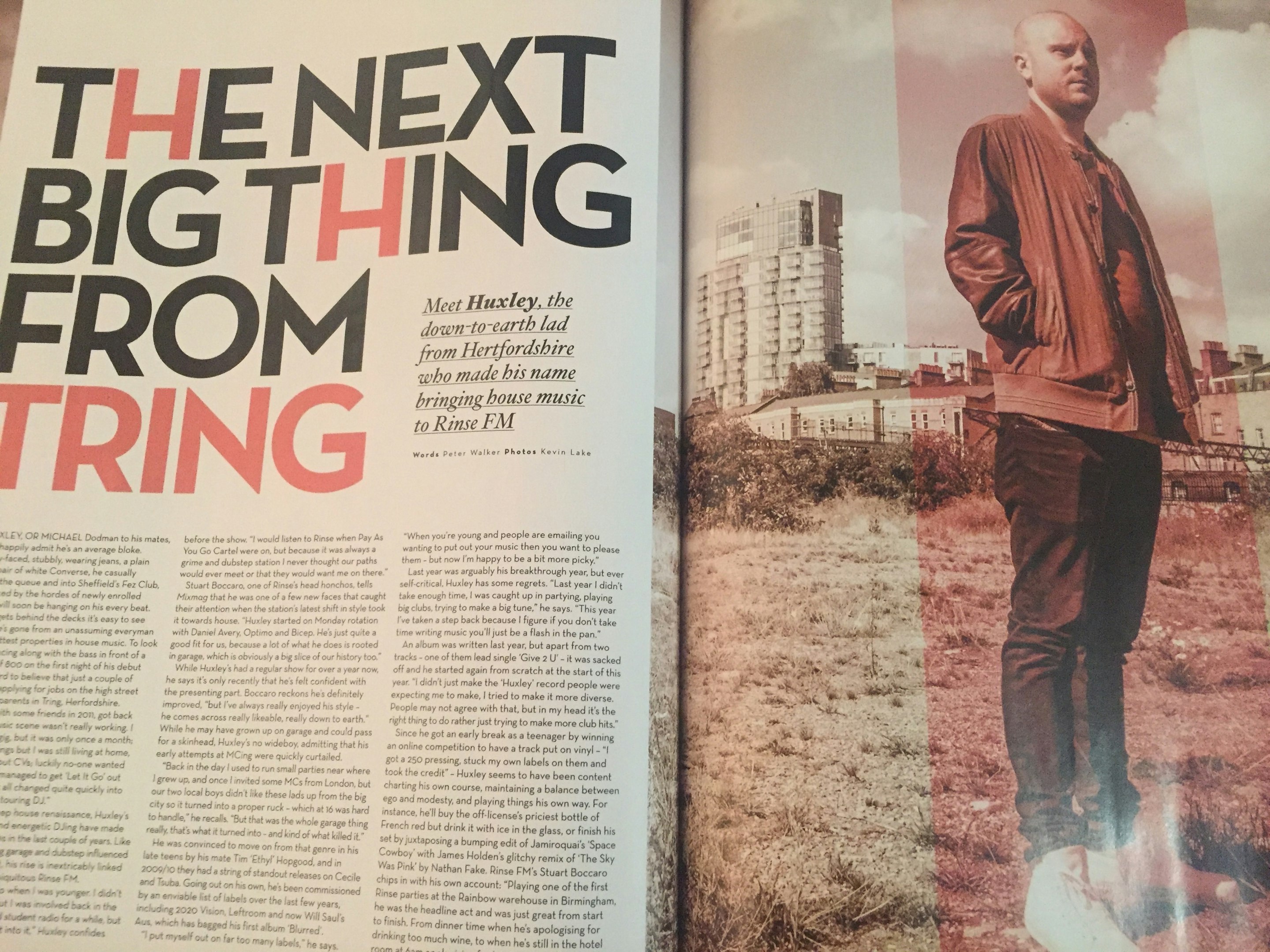 The next big thing from Tring

In this age of slick superstar DJs and producers, it's rather reassuring that your average bloke from middle England can rub shoulders with the international elite.
Huxley, or Michael Dodman to his mates, will happily admit he's exactly that. Baby-faced, slightly rotund, wearing jeans, a plain t-shirt and a pair of white Converse, he casually saunters past the queue and into Sheffield's Fez Club, largely unnoticed by the hordes of newly-enrolled students who will soon be hanging on his every beat.
Because once he gets into the booth and behind the decks it's easy to see and hear why he's gone from another unassuming everyman to one of the hottest properties in house music. To look at him now, bouncing along with the bass in front of a capacity crowd of 800 on the first night of his debut album tour, it's hard to imagine that just a couple of years ago he was applying for jobs on the high street and living with his parents in Tring, Herfordshire.
"I went to Ibiza with some friends in 2011, got back and decided the music scene wasn't really working. I was getting £300 a gig, but it was only once a month, I'd released a few things, but I was still living at home, so I started handing out CVs; but luckily no one wanted me," he says with a slight lisp. "Then I managed to get 'Let It Go' out on Hypercolour and it all changed quite quickly into me being essentially a touring DJ."
Riding high on the deep house renaissance, Huxley's on-point productions and energetic DJing have made him many friends and fans in the last couple of years. Like several of his peers making garage and dubstep influenced 4/4 tracks at the moment, his rise is inextricably linked to pirate radio and the ubiquitous Rinse FM.
"I used to do pirate radio when I was younger, I didn't ever have my own show, but I was involved back in the internet radio days and I did student radio for a while, but wasn't really looking to get into it," Huxley confides before the show. "I would listen to Rinse when Pay As You Go Cartel were on, but because it was always a grime and dubstep station I never thought our paths would ever meet or that they would want me on there."
Stuart Boccaro, one of Rinse's head honchos, tell Mixmag that he was one of a few new faces that caught their attention when the station's latest shift in style took it towards house music. "Huxley started on Monday rotation with Daniel Avery, Optimo and Bicep. He's just quite a good fit for us, because a lot of what he does is rooted in garage, which is obviously a big slice of our history as well."
While Huxley's had a regular show for over a year now, he says it's only recently that he's got confident with the presenting part. Boccaro reckons he's definitely improved, "but I've always really enjoyed his style, he comes across really likeable, really down to earth." While he may have grown up on garage and could pass for a skinhead, Huxley's no wideboy, admitting that early attempts at MCing were quickly curtailed.
"Back in the day I used to run small parties round where I grew up and one time I invited some MCs from London, but our two local boys didn't like these lads up from the big city, so it turned into a proper ruck; which at 16 was difficult to handle," he recalls. "But that was the whole garage thing really, that's what it turned into and kind of what killed it."
He was convinced to move on from that genre in his late teens by his mate Tim 'Ethyl' Hopgood and in 2009/10 they had a string of standout releases on Cecile and Tsuba. Going out on his own, he's been commissioned by an enviable list of labels over the last few years, including 2020 Vision, Leftroom and now Will Saul's Aus; which has bagged his first album 'Blurred'.
"I put myself out on far too many labels to be honest, when you're young and people are emailing you wanting to put out your music then you want to please them, but now I'm happy to be a bit more picky."
2013 was arguably his breakthrough year, but ever self-critical, Huxley has some regrets about his output. "Last year I didn't take enough time, I was caught up on partying, playing big clubs, trying to make a big tune," he says, adding that "this year I've taken a step back because I figured if you don't take time writing music you're just going to be a flash in the pan."
An album was written last year, but apart from two tracks – one of them lead single 'Give 2 U' – it was sacked off and he started again from scratch at the start of this year. "I didn't just make the 'Huxley' record people were expecting me to make, I tried to make it a bit more diverse, which I don't know if people agree with, but in my head that's the right thing to do, rather just trying to make more club records."
Since he got an early break as a teenager winning an online competition to have your track put on vinyl – "I got a 250 pressing, stuck my own labels on them and took the credit" – Huxley seems to have been content charting his own course, mercifully maintaining a balance between ego and modesty; playing things his own way.
For instance he'll buy the off-license's priciest bottle of French red wine but drink it with ice in the glass, or finish his set by juxtaposing a bumping edit of Jamiroquai's 'Space Cowboy' with James Holden's glitchy remix of 'The Sky Was Pink' by Nathan Fake. Rinse FM's Stuart Boccaro chips in with his own account: "Playing one of the first Rinse parties at the Rainbow warehouse in Birmingham, he was the headline act and just great from start to finish. From dinner time when he's apologising for drinking too much wine, to when he's still in the hotel room at 6am apologising for keeping things going."