Lungs for Hire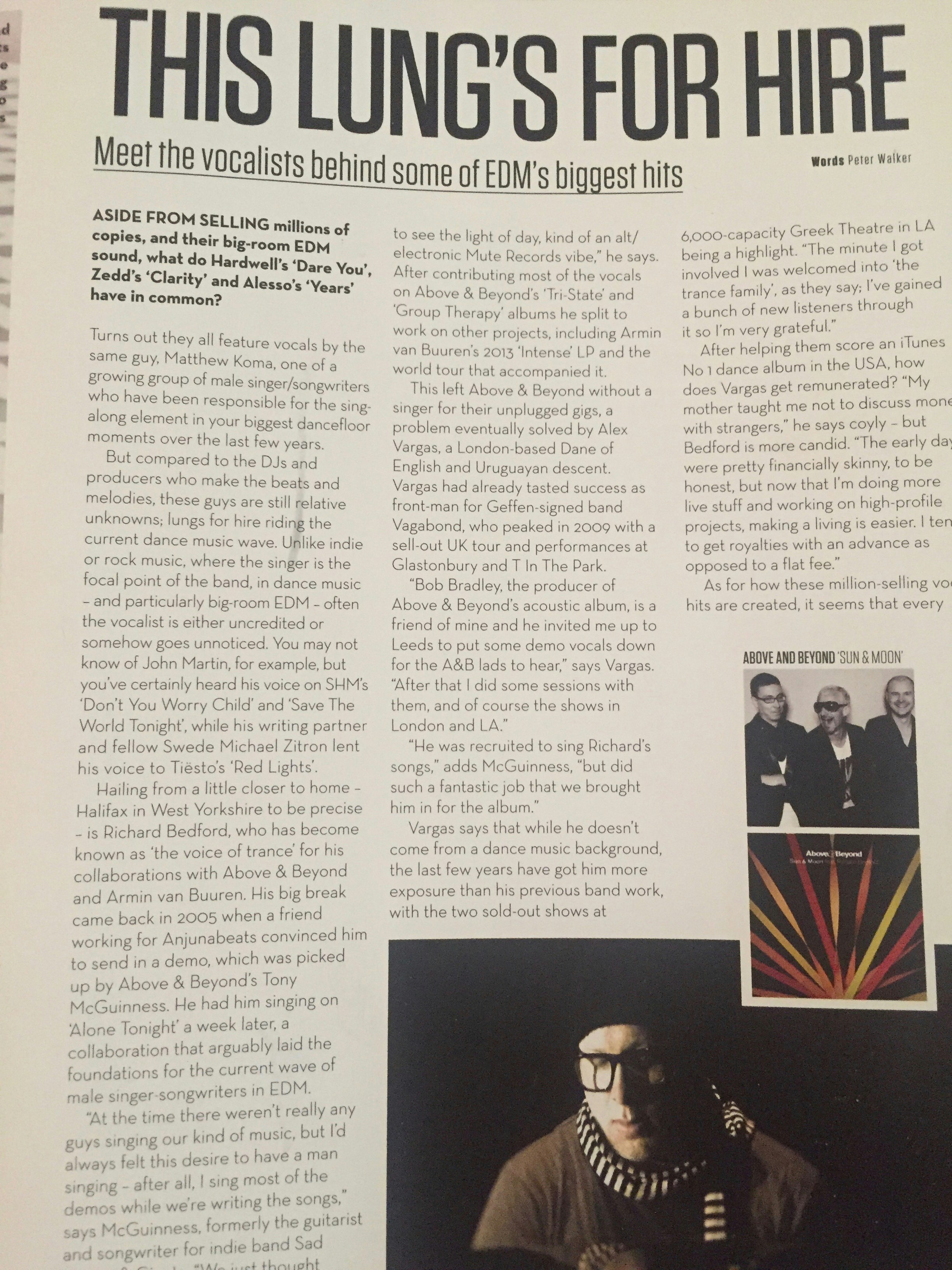 Lungs for Hire: Meet the vocalists behind EDM's biggest hits

Aside from selling millions of records with a big room EDM sound, what do Hardwell's 'Dare You', Zedd's 'Clarity' and Alesso's 'Years' have in common?
Turns out they all feature vocals by the same guy, Matthew Koma, who is one of a growing group of male singer/songwriters who have been responsible for the sing-a-long element to your biggest dancefloor moments over the last few years.
But compared to the DJs and producers who make the beats and melodies, these guys are relative unknowns, lungs for hire riding the current dance music wave. You've probably never heard of them, but John Martin for instance, is responsible for belting out Swedish House Mafia's 'Don't You Worry Child' and 'Save The World Tonight', while his writing partner and fellow Swede Michael Zitron lent his voice to Tiesto's 'Red Lights'.
Hailing from a little closer to home – Halifax in West Yorkshire to be precise – is Richard Bedford, who has become known as the 'voice of trance' for his collaborations with Above & Beyond and Armin van Buuren. His big break came back in 2005 when a friend working for Anjunabeats convinced him to send in a demo, which was picked up by Above & Beyond's Tony McGuinness, who had him singing on 'Alone Tonight' a week later.
"At the time there weren't really any guys singing our kind of music, but I'd always felt this desire to have a man singing, I mean I sing most of the demos while we're writing the songs," says McGuinness, formerly the guitarist and songwriter for indie band Sad Lovers & Giants. "We just thought Richard was perfect, because he kind of sings like me if I could actually sing, so it was a very easy, he has such a beautiful voice and he's able to convey the plaintive nature of the vocals that we write."
Bedford says the impact on his career has been huge, although his solo work does not share a particularly similar sound. "I have a quirky side project called 'Little Man, Big Shoes' that is yet to see the light of day, kind of an alt/electronic Mute Records vibe." After contributing most of the vocals on Above & Beyond's 'Tri-State' and 'Group Therapy' albums he split to work on other projects, including Armin van Buuren's 'Intense' LP and the world tour that accompanied it last year.
This left Above & Beyond without a singer for their unplugged gigs, a problem eventually solved by Alex Vargas, a London-based Dane of English and Uruguayan descent. Vargas had tasted success already as the front man for Geffen-signed band Vagabond, who peaked in 2009 with a sell-out UK tour and performances at Glastonbury and T in the Park.
"Bob Bradley, the producer of Above & Beyond's acoustic album, is a friend of mine and he invited me up to Leeds to put some demo vocals down for the A&B lads to hear," says Vargas. "After that I did some sessions with them, and of course the shows in London and LA." McGuinness adds that "he was recruited to sing Richard's songs, but did such a fantastic job that we brought him in for the album."
"It's actually the other way around for me, because I don't come from a dance music background, but it has certainly affected me in a very positive way," says Vargas. The two sold out shows at the 6,000 capacity Greek Theatre in LA were a highlight. "The minute I got involved I was welcomed to 'the trance family' as they say; I've gained a bunch of new listeners through this so I'm very grateful."
After helping them score the number one iTunes dance album in the USA, how does Vargas get remunerated? "My mother taught me not to discuss money with strangers," he says coyly, but Bedford is more candid. "The early days were pretty financially skinny to be honest, but now with me doing more 'live' and working on high profile projects, making a living is easier. I tend to get royalties with an advance as opposed to a flat fee."
As for how these million-selling vocal hits are created, it appears every producer and singer has slightly different preferences. Paul Oakenfold tells Mixmag that things always have to be done in the studio, although trying to track down singers like Madonna and Cher does take time. "We usually get in the studio together, chat, choose the subject matter, then go from there. That's the process I prefer, but sometimes you may just send them an instrumental, they write a top line and you talk it through over the phone."
Hardwell favours doing his studio work from a distance, with work with Amba Shepherd on 'Apollo' or Matthew Koma on 'Dare You' all done virtually. "I prefer this way because it enables me to get into my 'zone' and it also means I'm not influenced by another person's ideas or techniques, meaning I can deliver my own style and sound to the track. My preferred method is to create the music, or at least the rough structure of the track, and work with the vocalist that way. Or alternatively I'll get a top line with vocals and build the track around that."
Selecting the right vocalist for the track is also crucial, as Oakenfold explains. "I'm looking for originality in tone and an artist that is flexible in what we are trying to achieve; someone who has the confidence to go on and perform it live and do an amazing job." Hardwell agrees that it's important to find someone with a distinct tone. "For me a voice is what really brings the track to life, so when you hit that jackpot moment when the music and their voice connect as if one, it's truly special."
Many producers will let the singer create the lyrics, but for one third of Above & Beyond, Tony McGuinness, it's important that his lyrics fit the track. "I always wrote songs on my own, but for me Above & Beyond ended up satisfying some of that. We were worried things like 'Alone Tonight' would be too sad to play in a nightclub, but the big surprise we all got was when we played that track at Global Gathering in front of about 8000 people, a lot of whom were guys, and hearing them sing the chorus back to us made us realise how wrong we were."
McGuinness cites Jeff Buckley as exactly the kind of indie white soul sound he's after and has a theory about why trance and EDM seems to have favoured white male singers of late, while house and garage has revived the black diva sound of the 90s. "I'm not a sociologist, but there seems to be a sort of divide in dance music, where house is on the soul and R&B side, while prog and trance are more on the indie side."
"Although I don't judge a person by the colour of their skin, there tends to be a kind of white subject matter on the side of the indie and trance, while the other side is more black, with soul and house and R&B. One side is a bit more chin-stroking and existential and the other is a bit more happy, party music. There's obviously overlap, but there does seem to be a slightly clichéd vocal trope in house music that we tend to avoid."
Oakenfold reckons "it's just that times change and the sounds move on to something different, so it might circle back", while Hardwell believes it's simply down to the "huge pool of incredibly talented male singer/songwriters out there right now and I think producers are just feeling a trend to work with a slightly different vocal range within their songs."
Koma Cat
Back to the intro though, and perhaps the most prolific of these mercenary male musicians, Matthew Koma. Hailing from Long Island and from a musical family, it was rock'n'roll that first captured his imagination, as he admits to having seen Bruce Springsteen more than 30 times. "I got a guitar pretty early on and started learning cover songs, that morphed into songwriting, which led to starting bands, so it's been a long journey of success and failures," he recalls.
It was through his persistence that he finally managed to breakthrough by co-writing the 2012 single 'Calling (Lose My Mind)' with Sebastian Ingrosso and Alesso. He collaborated with Alesso again on 'Years', performing the track live during Alesso's Coachella set, and that same year went on to co-write Nicky Romero and Fedde Le Grand's 'Sparks' and Zedd's 'Spectrum'.
"Growing up in New York, there was always a really prominent dance music scene, it was just so separate from any sort of singer/songwriter or rock band scene, I didn't really think those two worlds would ever exist together, so this is something I feel really fortunate to be a part of," says Koma.
Unlike some of his peers, Koma has been producing his own stuff since he was 13. "I had a four track and started learning how to do it the analogue way with tape and made a bunch or records that way. Then I moved to studios with big consoles, that led to me getting my first ProTools rig when I was 14 and I became addicted to it from then on in," he remembers, adding that he considers himself more of a songwriter and producer than a singer.
His take on the production process is again one of flexibility. "Sometimes it's someone sending me a track and I'll write to it, sometimes its someone saying 'I want to do a track like this' and I'll start the track and send lyric ideas back and forth."
"For the most part a lot of it is done via email before we get into a room together, because so many of us are touring it's always hard to pin down time to get into a studio. When I'm working on lyrics and melodies I want to take my time with it, so I don't want to get into a studio and rush it in six hours, I like to live with it, drive around, having it play in normal life and let things hit me."
Having helped craft huge hits for other people – 'Clarity' with Zedd recently hit 86 million YouTube views, while 'Wasted' with Tiesto is getting over 1 million Spotify streams a day – Koma is using this success as a springboard for his solo career. "I'm nearly finished my own record, I'm excited for people to hear it, because after all these collaborations it's going to be nice to point to something which is just representative of me. But I am making a record which people are going to be able to draw a line between discovering my voice from one of my dance music collaborations, seeing where the similarities exist but that there's also a uniqueness."