Mixmag | What DJs Earn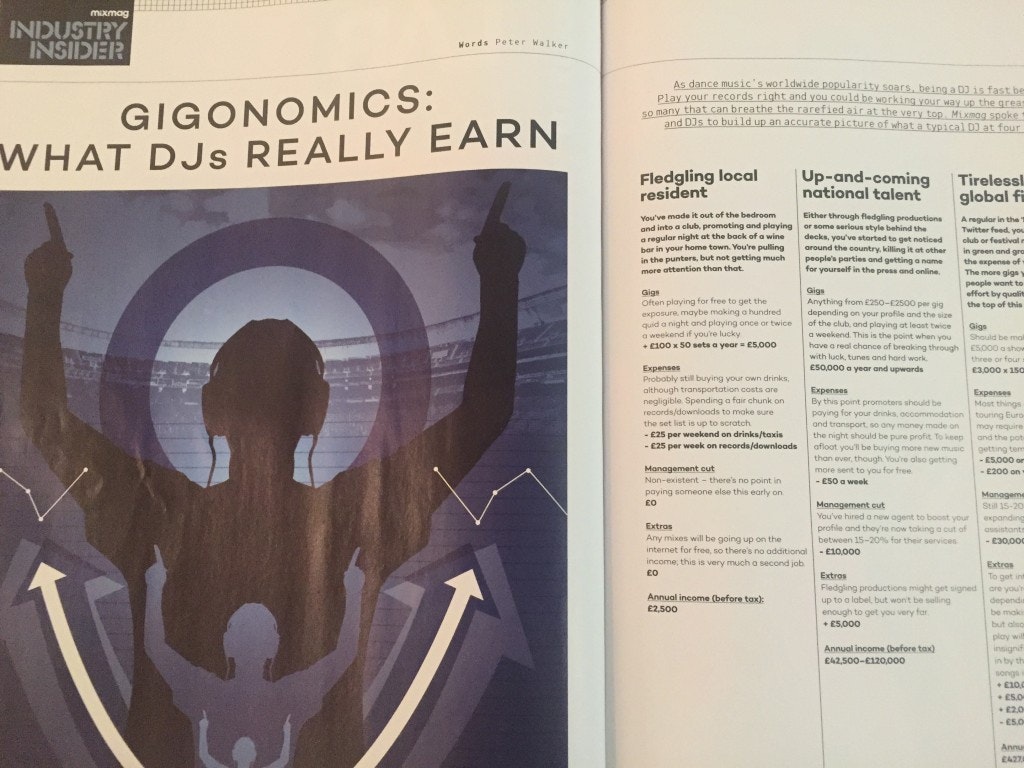 As dance music's worldwide popularity soars, being a DJ is fast becoming an attractive career choice. Play your records right and you could be working your way up the greasy pole to stardom, although there's only so many that can breathe the rarefied air at the very top. Mixmag spoke to a variety of agents, managers, promoters and DJs to build up an accurate picture of what a typical DJ at four stages of a career might expect to earn. But good luck to you trying to complete this game, as the reality is most won't make it past the first level.

Fledgling local resident You've made it out of the bedroom and into a club, promoting and playing a regular night at the back of a wine bar in your home town. You're pulling in the punters; but not getting much more attention than that.
Gigs Often playing for free to get the exposure, maybe making a hundred quid a night and playing once or twice a weekend if you're lucky.
+ £100 x 50 sets a year = £5,000
Expenses Probably still buying your own drinks, although transportation costs are negligible. Spending a fair chunk on records/downloads to make sure the set list is up to scratch.
– £25 a weekend on drink – £25 a week on records/downloads
Management cut Non-existent – no point in paying someone else this early on.
£0
Extras Any mixes will be going up on the internet for free, so no additional income; this is very much a second job.
£0
Annual Income (before tax)
£2,500
Up and coming national talent Either through fledgling productions or some serious style behind the decks, you've started to get noticed around the country, killing it at other people's parties and getting a name for yourself in the press and online.
Gigs Anything from £250 – £750 a gig depending on their profile and the size of the club and playing at least twice a weekend.
+ £500 x 100 sets a year = £50,000
Expenses By this point promoters should be paying for drinks, accommodation and transport; so any money made on the night should be pure profit. To keep afloat you'll be buying more new music than ever though.
– £50 a week
Management cut That is until you take into account that new agent you've just hired to boost your profile and is now taking a cut of between 15-20% for their services.
– £10,000
Extras Fledgling productions might get signed up to a label, but won't be selling enough to get you very far.
+ £5,000
Annual Income (before tax) £42,500
Tirelessly-touring global fixture Picked on by the 'DJs Complaining' twitter, you're flying to a different club or festival most weekends, pulling in green and groupies; quite possibly at the expense of your health and sanity.
Gigs Should be making between £2,000 – 5,000 a show by this stage – and playing three or four sets most weekends.
£3,000 x 150 sets a year = £450,000
Expenses Most things are taken care of whilst touring Europe, but more far flung trips may require paying your own air fares and the potential hassle/expense of getting temporary work visas.
– £5,000 on flights / missed connections – £200 on visas
Management cut Still 15-20% for each of the rapidly expanding number of staff, including personal assistants and artist management.
– £30,000
Extras To get internationally known, chances are you're making music – which depending on crossover appeal – could be making a fair wedge from sales. Radio play will mean royalties, plus not insignificant amounts of money raked in by getting said songs in an advert or film.
+ £10,000 from record sales + £5,000 from car advert + £2,000 on royalties
Annual Income (before tax) £432,000
Stadium-filling superstar Essentially you've completed the game by this point – able to scale back the amount of gigs because each pays so much, instead concentrating on running labels and lending the personal brand to corporate sponsorships.
Gigs At this stage the sky's the limit. A couple of hours at a small venue would still make £10,000 at the very least, but most shows will be in massive clubs, or more likely festival main stages, where £20,000 is the minimum. £15,000 x 75 sets a year = £1.12m
Expenses Will all be paid – promoters are falling over themselves to book you, so will accept even the most extravagant requests.
£0
Management cut This fame brings hangers on, so your entourage will be pretty extensive – stylists, social media gurus, lighting technicians, etc – will all deem their services essential to your success and take their cut of your profits.
– £100,000
Extras Product endorsements are likely – drinks/clothes/tech – and you'll have the clout to run your own label, with a roster of artists under your wing. You can take your pick of mix CDs, although actual income from these is negligible. You may well get a series of nights in Ibiza or Las Vegas, or be called upon to play lucrative private parties for big companies and dubious dictators.
+ £500,000 sponsorships +£250,000 for Ibiza season/one-off parties + £100,000 in record sales + £20,000 mix CDs
Annual Income (before tax) £1.9m