Phoenix from the flames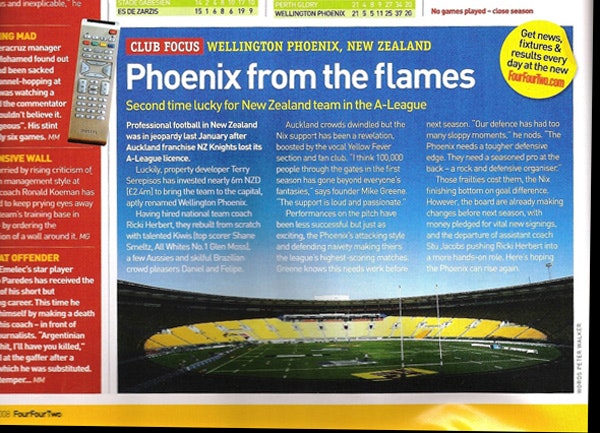 The future of professional football in New Zealand was in jeopardy last January after Auckland based franchise, The New Zealand Knights, had its license revoked due to poor performance on and off the pitch.

Luckily local property developer Terry Serepisos overheard the news and invested nearly $6m (NZ) to bring the team to the capital under the apt name the Wellington Phoenix.
Under the leadership of national team coach Ricki Herbert they started building a team from scratch: the backbone consisting of several talented kiwis like top scorer Shane Smeltz and All Whites no.1 Glen Moss, assisted by a few Aussies, like captain Ross Aloisi, and a couple of skilful Brazilians, fan favourites Daniel and Felipe.
After dwindling crowds in Auckland the level of support for the team has been a revelation, boosted by the formation of fan club and vocal stadium section The Yellow Fever. Mike Greene, founder of the fan club, has been blown away by the first season, "I think 100,000 people through the gates in the first season has gone beyond everyone's greatest fantasies. The crowd support has been loud and passionate."
Performances on the pitch have been less successful, but nonetheless exciting, the Phoenix's combination of attacking style and woeful defending making theirs the highest scoring matches in the league. Greene sees this as an area that needs work before next season, "our defence has had too many sloppy moments, the Phoenix needs a tougher defensive edge. They need a seasoned pro at the back – a rock and defensive organiser."
These defensive frailties cost them in the end, eventually coming last on goal difference, but the board are already making changes before next season, with money provided for vital new signings, and assistant coach Stu Jacobs recently sacked urging Ricki Herbert into a more hands on role.