Re:Union | Layo & Bushwacka! – Feels Closer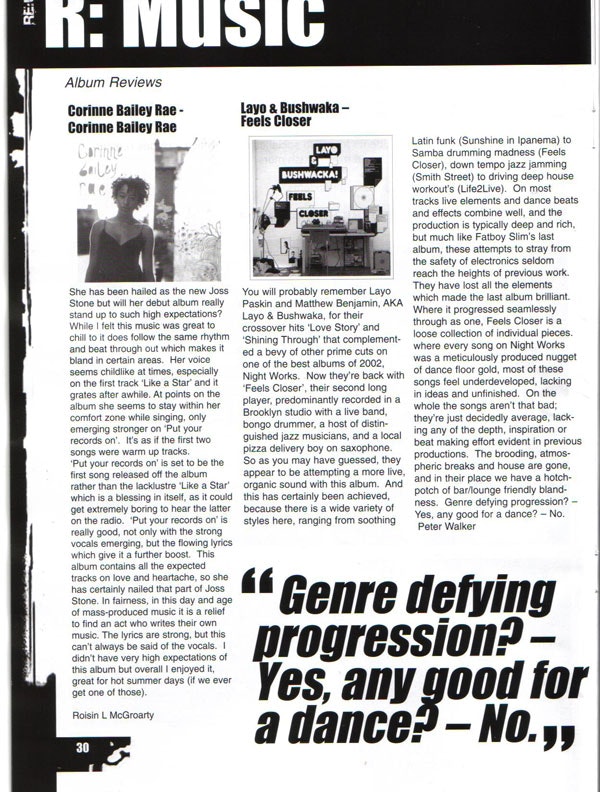 Layo & Bushwacka! – Feels Closer
You will probably remember Layo Paskin and Matthew Benjamin, AKA Layo & Bushwaka, for their crossover hits 'Love Story' and 'Shining Through' that complemented a bevy of other prime cuts on one of the best albums of 2002, Night Works.
Now they're back with Feels Closer, their second long player, predominantly recorded in a Brooklyn studio with a live band, bongo drummer, a host of distinguished jazz musicians, and a local pizza delivery boy on saxophone. So as you may have guessed, they appear to be attempting a more live, organic sound with this album. And this has certainly been achieved, because there is certainly a wide variety of styles here, ranging from soothing Latin funk (Sunshine in Ipanema) to Samba drumming madness (Feels Closer), down tempo jazz jamming (Smith Street) to driving deep house workout's (Life2Live).
On most tracks live elements and dance beats and effects combine well, and the production is typically deep and rich, but much like Fatboy Slim's last album, Palookaville, these attempts to stray from the safety of electronics seldom reach the heights of previous work. Sadly they have lost all the elements which made the last album brilliant. Where it progressed seamlessly through as a whole, Feels Closer is a loose collection of individual pieces, where every song on Night Works was a meticulously produced nugget of dance floor gold, most of these songs feel underdeveloped, lacking in ideas, and often just plain unfinished. On the whole the songs aren't that bad; they're just decidedly average, lacking any of the depth, inspiration or beat making effort evident in previous productions.
The brooding, atmospheric breaks and house are gone, and in their place we have a hotchpotch of bar/lounge friendly blandness. From their recent outing at the Sub Club at least we still know they can still rock any sound system they control, but please lads, don't go all pretentious jazz-funk-fusion on us.
Genre defying progression? – Yes, any good for a dance? – No.