Re:Union | The Chemical Brothers – Push the Button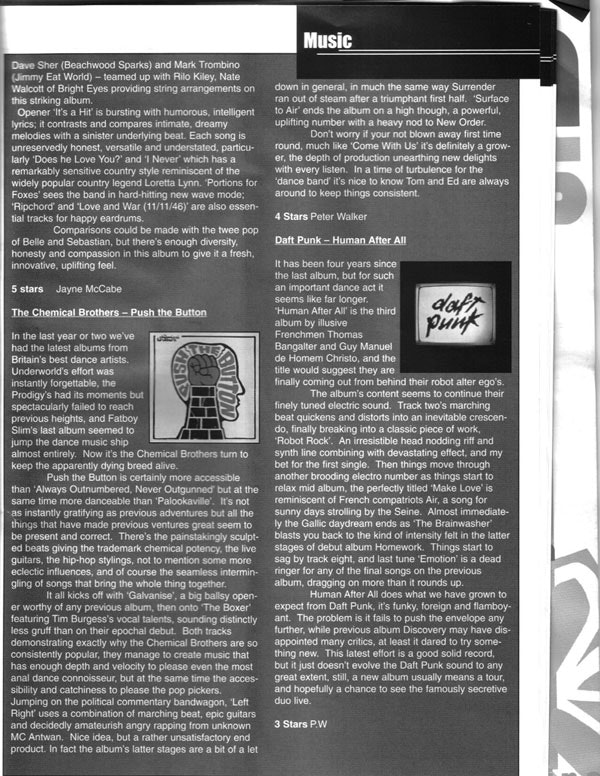 The Chemical Brothers – Push the Button
In the last year or two we've had the latest albums from Britain's best dance artists, Underworld's effort was instantly forgettable, the Prodigy's had its moments but spectacularly failed to reach previous heights, and Fatboy Slim's last album seemed to jump the dance music ship almost entirely. Now it's the Chemical Brothers turn to keep the apparently dying breed alive, the Chemical Brothers are arguably the leader of the pack, so will there effort fare any better, or result in yet another 'not as good as they used to be' verdict.
Well, it's certainly more accessible than 'Always Outnumbered, Never Outgunned' but at the same time more danceable than 'Palookaville'. It's not as instantly gratifying as previous adventures but all the things that have made previous ventures great seem to be present and correct. There's the painstakingly sculpted beats giving the trademark chemical potency, the live guitars, the hip-hop stylings, not to mention some more eclectic influences, and of course the seamless intermingling of songs that bring the whole thing together.
It all kicks off with 'Galvanise', a big ballsy opener worthy of any previous album, then onto 'The Boxer' featuring Tim Burgess's vocal talents, sounding distinctly less gruff than on their epochal debut. Both tracks demonstrating exactly why the Chemical Brothers are so consistently popular, they manage to create music that has enough depth and velocity to please even the most anal dance connoisseur, but at the same time the accessibility and catchiness to please the pop pickers. 'Come Inside' is a typical building track, great guitar hook, big break beat and a driving rhythm that keeps things simple and effective, followed by 'Big Jump' which takes things a bit brooding electro on you, building the suspense mid album. Jumping on the political commentary bandwagon, 'Left Right' uses a combination of marching beat, epic guitars and decidedly amateurish angry rapping from unknown MC Antwan. Nice idea, but a rather unsatisfactory end product. 'Close Your Eyes' is another failed effort, the folksy guitars and dreary lyrics aren't up to previous relaxed creations, in fact the albums latter stages are a bit of a let down in general, in much the same way Surrender ran out of steam after a triumphant first half. 'Surface to Air' ends the album on a high though, a powerful, uplifting number with a heavy nod to New Order.
Don't worry if your not blown away first time round, much like 'Come With Us' its definitely a grower, the depth of production unearthing new delights with every listen. In a time of turbulence for the 'dance band' it's nice to know Tom and Ed are always around to keep things consistent.
Daft Punk – Human After All
Last album 'Discovery' was only four years ago, but for such an essential dance act as Daft Punk, it seems like more. This is the third album by illusive Frenchmen Thomas Bangalter and Guy Manuel de Homem Christo, and it seems they're finally coming clean from their robot alter ego's with the album titled 'Human After All'. The content would suggest otherwise though, as things start with standard Daft Punk robotic charm, distorted guitars and vocoder voices dominating the opener, and more of the same with track two's marching beat speeding up and distorting into an inevitable crescendo.
This finally breaks into some classic Daft Punk on 'Robot Rock', a head nodding riff and synth line combing to dancefloor devastating effect. We move through another brooding electro number before things start to relax mid album. Perfectly titled 'Make Love' is all about the Gallic charm they've always oozed, a song for sunny days strolling by the Seine. There's no chance for getting lulled away too far, as 'the Brainwasher' blasts you back to life, the people that were a little disappointed at Discovery's lack of bite will appreciate beasts like this, harking back to the kind of intensity felt in the latter stages of 'Homework'.
By 'Television Rules the Nation' it would be nice to have some more vocal satisfaction than a distorted voice repeating the title of the track and the same plodding electro as earlier songs is getting a little bit tired. Last tune 'Emotion' is a deadringer for any of the final songs on the previous album, and drags on more than rounding things up. Due to be released on March 21, Human After All does what we've grown to expect from Daft Punk, its funky, foreign and entertaining, but it fails to push the envelope any further.
Discovery may have disappointed many critics, but at least it dared to try a more disco, poppy sound, this latest effort is a good solid record, but just doesn't have enough new ideas or moments of inspiration.