Re:Union | The Prodigy – Always Out Numbered Never Out Gunned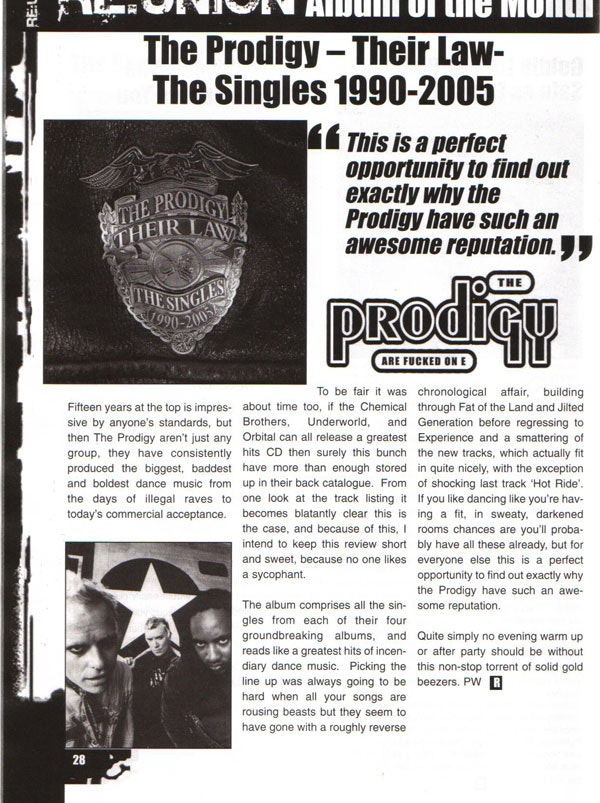 It was always going to be a hard task to follow the last two albums, especially since Liam, Maxim and Leroy weren't going to be involved. Remaining member Liam Howlett has soldiered on though, and has done a good job.
The problem is, unlike the previous albums, its good, and not great. The production is as tight as you would expect from a producer of Howlett's calibre, speaker damaging breakbeats in keeping with prodigy tradition, varied and interesting hooks and riffs, and a big bagful of squelchy noises and distorted guitars. The album starts with a characteristically brash and angry number in Spitfire then moves on to the excellent first single Girls which takes on the recent electro clash genre and beats it to a pulp, then however, inspiration starts to wane. Things never stray very far from the 'oh so fashionable' punk rock .vs. acid house vibe, and while every track has some nice ideas they seem spread out over too many songs, not every song a complete work as in previous albums.
Instead of Keith and Maxim the vocal's are all from and interesting selection of guests, who all contribute well, but no real standout performances. Twista's speed rapping on Get Up Get Off fits perfectly and Juliette Lewis's vocal on Hot Ride is catchy enough, but the Gallagher's contributions on the last track pale in comparison to anything they did with the Chemical Brothers.
Towards the end things do pick up again, Medusa's Path and You'll Be Under My Wheels (as heard in the new BMW ad) are both fine tracks but the unessacarily abrupt ending and general lack of anything groundbreaking leaves you feeling rather unfulfilled. This would be a fantastic album from anyone else, but you really expect a little bit more from the band that has shaped dance music for well over a decade.