The Skinny | Aim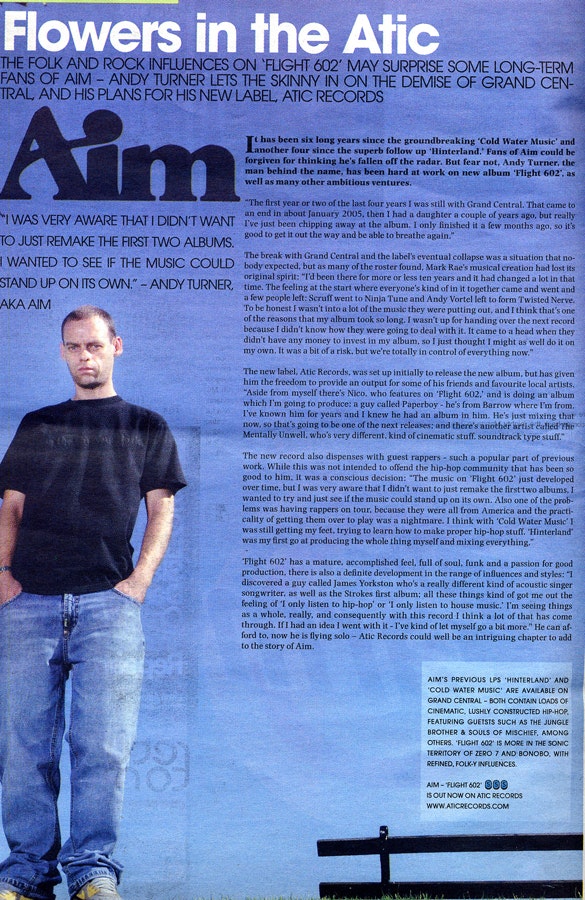 It has been six long years since the groundbreaking debut album Cold Water Music, and another four since the superb follow up Hinterland, so fans of Aim could be forgiven for thinking he's fallen off the radar.
But fear not, Andy Turner, the man behind the name, has been hard at work on new album Flight 602, as well as many other ambitious ventures. "The first year or two of the last four years I was still with Grand Central, so that came to an end in about January 2005, then I had a daughter a couple of years ago, but really I've just been chipping away at the album, I only finished it a few months ago so its good to get it out the way and be able to breathe again."
His break with Grand Central and the label's eventual collapse was a situation that nobody expected, but as many of the roster found, Mark Rae's musical creation had lost its original spirit. "I'd been there for more or less ten years and it had changed a lot in that time, the feeling at the start where everyone's kind of in it together came and went and a few people left: Scruff went to Ninja Tune and Andy Vortel left to form Twisted Nerve.
To be honest I wasn't into a lot of the music they were putting out and I think that's one of the reasons that my album took so long, I wasn't up for handing over the next record because I didn't know how they were going to deal with it. It came to a head when they didn't have any money to invest in my album, so I just thought I might as well do it on my own, it was a bit of a risk, but we're totally in control of everything now."
The new label, Atic Records, was set up initially to release the new album, but has given him the freedom to provide an output for some of his friends and favourite local artists. "Aside from myself there's Nico who features on Flight 602, and is doing an album which I'm going to produce, a guy called Paperboy, he's from Barrow where I'm from, I've known him for years and I knew he had an album in him, so he's just mixing that now so that's going to be one of the next releases, and there's another artist called The Mentally Unwell, who's very different, kind of cinematic stuff soundtrack type stuff."
Back to the album though, and for anyone who's had a listen it's clear there is a progression through from his previous records, "I think with Cold Water Music I was still getting my feet, trying to learn how to make proper hip hop stuff really, there's a lot of up tempo things on there, then Hinterland was my first go at producing the whole thing myself and mixing everything." Flight 602 has a mature accomplished feel, full of soul, funk and a passion for good production, there is also a definite development in the range of influences and styles, "I discovered a guy called James Yorkston who's a really different kind of acoustic singer songwriter, as well as the Strokes first album, all these things kind of got me out the feeling of 'I only listen to hip hop' or 'I only listen to house music'. I'm seeing things as a whole really and consequently with this record I think a lot of that has come through, If I had an idea I went with it, I've kind of let myself go a bit more."
The new record also dispenses of any of the guest rappers which had become such a popular part of previous work, and whilst this was not intended to offend the hip hop community that has been so good to him, it was a conscious decision, "the music on there just developed over time, but I was very aware that I didn't want to just remake the first two albums, I wanted to try and just see if the music could stand up on its own. Also one of the problems was having rappers on tour, because they were all from America and the practicality of getting them over to play was a nightmare."
This moves us neatly on to the current UK tour, which hits Scotland later this month, and for both those who have seen the live show before and those who haven't there will be some surprises in store. "We've made a conscious decision to try and pick the tracks to play that are more up tempo and a bit more suited to a gig really, so people can get into it rather than just stand there nodding their heads, so there's two or three really heavy tracks, a lot of guitar stuff. The band have settled down now, we went through quite a lot of personnel changes over the years and its got to a point now where everyone is well up for it so were just seeing how far we can take it."
Thurs 26th Oct - The Liquid Room Fri 27th Oct - King Tuts Wah Wah Hut
Its hard to quantify really, I guess there's just something in me that just likes being beside the coast, I think one of the things about being in Barrow is that there really isn't that much going on, your not influenced by current trends, there's no big club nights no record shops, no other people, well there's a few people
So your kind of just on your own really so your not influenced every day by what going on around you like you might be in the city, having said that though if I did move to the city I'd probably end up sat in my bedroom all night anyway producing music, but I was born and I grew up here so id really miss being bale to go to the beach and the countryside, I like it and whether it influences my music I don't know but it doesn't do it any harm.
Initially what made me kind of move from playing guitar, I used to be in an indie band, what made me move from that was kind of hip hop I was hearing in the early nineties like tribe called quest, Pete rock and diamond d, and when I heard that I got so into it I was just determined to work out how they did it so I found out what drum machine they used, got one of them, just worked my way through it to the point where for the next two or three years that was all I listened to, so they were very influential, then after that as I say James yorkston I heard his record and the first strokes album and that made me kind of open up again to everything, but its hard to say what's been a direct influence, I mean there's a jazz drummer called buddy ricks that I used to listen to and my dad was a jazz drummer and buddy ricks was his hero so as a kid I was always listening to that kind of thing and kind of swing music, so I guess I kind of like the beats I make with the swing to it to have a jazzy feel, so that comes through as well
We've played in the liquid rooms before and they've been good nights, but each time we've came away and thought we didn't quite do it then so hopefully this one will be the one