The Skinny | DJ Hell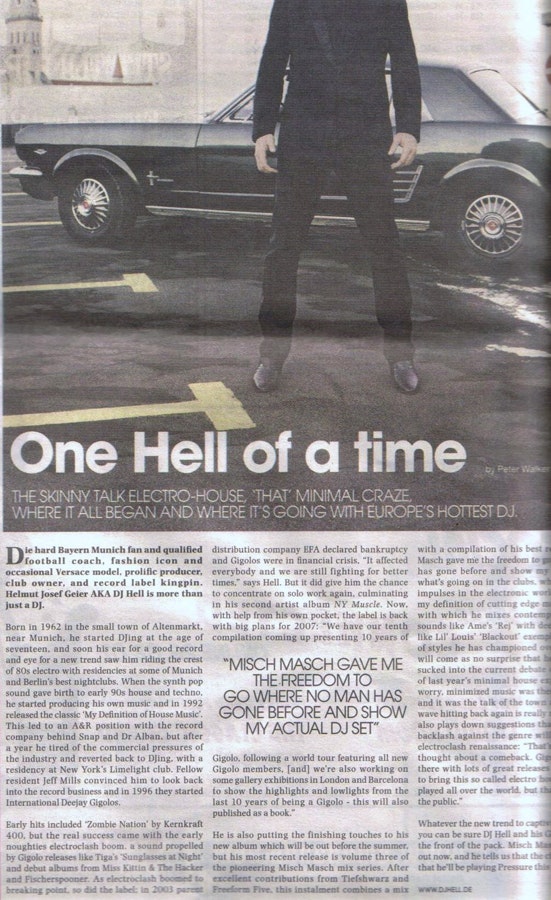 Die hard Bayern Munich fan and qualified football coach, fashion icon and occasional Versace model, prolific producer, club owner, and record label kingpin. Helmut Josef Geier AKA DJ Hell is more than just a DJ.
Born in 1962 in the small town of Altenmarkt, near Munich, he started DJ'ing at the age of seventeen, and soon his ear for a good record and eye for a new trend saw him riding the crest of the 80s electro wave with residencies at some of Munich and Berlins best nightclubs. As the synth pop sound gave birth to early 90's house and techno he started producing his own music, and in 1992 released the classic 'My Definition of House Music'. This led to an A&R position with the record company behind mainstream acts Snap and Dr Alban, but after a year there he tired of the commercial pressures of the industry and reverted back to DJ'ing, with a residency at New York's Limelight club. Fellow resident Jeff Mills convinced him back into the record business and in 1996 they started International Deejay Gigolos.
Early hits included 'Zombie Nation' by Kernkraft 400, but the real success came with the early noughties electroclash boom, a sound propelled by Gigolo releases like Tiga's 'Sunglasses at Night' and debut albums from Miss Kittin & The Hacker and Fischerspooner.
As electroclash boomed and bust, so did the label, as in 2003 parent distribution company EFA declared bankruptcy and Gigolos were in financial crisis, "It effected everybody and we are still fighting for better times" says Hell, but it did give him the chance to concentrate on solo work again, culminating in his second artist album NY Muscle. Now, with help from his own pocket, the label is back with big plans for 2007, "We have our tenth compilation coming up presenting 10 years of Gigolo, following a world tour featuring all new Gigolo members, we're also working on some gallery exhibitions in London and Barcelona to show the high and lowlights from the last 10 years of being a Gigolo - this will also published as a book."
He is also putting the finishing touches to his new album which will be out before the summer, but his most recent release is volume three of the pioneering Misch Masch mix series. After excellent contributions from Tiefshwarz and Freeform Five this installment combines a mix with a compilation of his best remixes. "Misch Masch gave me the freedom to go where no man has gone before and show my actual DJ set, what's going on in the clubs, what are the new impulses in the electronic world, and what is my definition of cutting edge music."
The ease with which he mixes contemporary melodic sounds like Ame's 'Rej' with deep dark classics like Lil' Louis 'Blackout' exemplifies the range of styles he has championed over the years, and it comes as no surprise that he refuses to get sucked into the current debate over the merits of last years minimal house explosion. "Don't worry, minimized music was there 10 years ago and it was the talk of the town already, so this wave is hitting back again is really no surprise."
He also plays down suggestions that the predicted backlash against the genre will precipitate an electroclash renaissance, "That's funny, I never thought about a comeback, Gigolo was always there with lots of great releases and we helped to bring this so called electro house sound to be played all over the world, but that's really up to the public."
But whatever the new trend to captivate the industry you can be sure DJ Hell and his Gigolos will be at the front of the pack.
Misch Masch Volume 3 is out now, and he tells us that he'll be playing Pressure this year.