Trentemoller – Reworked/Remixed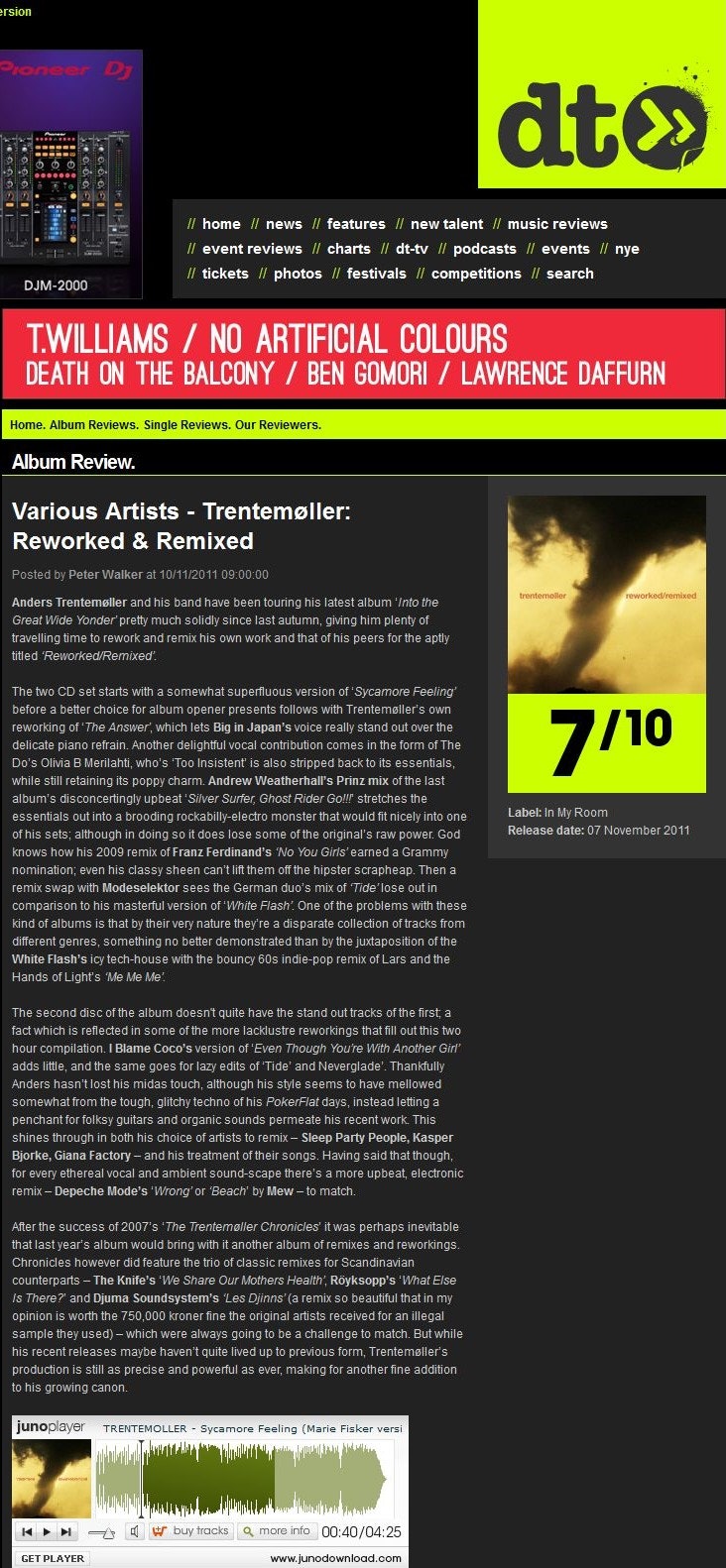 Anders Trentemoller and his band have been touring his latest album 'Into the Great Wide Yonder' pretty much solidly since last autumn, giving him plenty of travelling time to rework and remix his own work and that of his peers for the aptly titled 'Reworked/Remixed'.
The two CD set starts with a somewhat superfluous version of 'Sycamore Feeling' before a better choice for album opener presents follows with Trentemoller's own reworking of 'The Answer', which lets Big in Japan's voice really stand out over the delicate piano refrain. Another delightful vocal contribution comes in the form of The Do's Olivia B Merilahti, who's 'Too Insistent' is also stripped back to its essentials, while still retaining its poppy charm. Andrew Weatherhall's Prinz mix of the last album's disconcertingly upbeat 'Silver Surfer, Ghost Rider Go!!!' stretches the essentials out into a brooding rockabilly-electro monster that would fit nicely into one of his sets; although in doing so it does lose some of the original's raw power. God knows how his 2009 remix of Franz Ferdinand's 'No You Girls' earned a Grammy nomination; even his classy sheen can't lift them off the hipster scrapheap. Then a remix swap with Modeselektor sees the German duo's mix of 'Tide' lose out in comparison to his masterful version of 'White Flash'. One of the problems with these kind of albums is that by their very nature they're a disparate collection of tracks from different genres, something no better demonstrated than by the juxtaposition of the White Flash's icy tech-house with the bouncy 60s indie-pop remix of Lars and the Hands of Light's 'Me Me Me'.
The second album didn't quite have the standout tracks of the first; a fact which is reflected in some of the more lacklustre reworkings that fill out this two hour compilation. I Blame Coco's version of 'Even Though You're With Another Girl' adds little, and the same goes for lazy edits of 'Tide' and Neverglade'. Thankfully Anders hasn't lost his midas touch, although his style seems to have mellowed somewhat from the tough, glitchy techno of his PokerFlat days, instead letting a penchant for folksy guitars and organic sounds permeate his recent work. This shines through in both his choice of artists to remix – Sleep Party People, Kasper Bjorke, Giana Factory – and his treatment of their songs. Having said that though, for every ethereal vocal and ambient sound-scape there's a more upbeat, electronic remix – Depeche Mode's 'Wrong' or 'Beach' by Mew – to match.
After the success of 2007's 'The Trentemoller Chronicles' it was perhaps inevitable that last year's album would bring with it another album of remixes and reworkings. Chronicles however did feature the trio of classic remixes for Scandinavian counterparts – The Knife's 'We Share Our Mothers Health', Royksopp's 'What Else Is There?' and Djuma Soundsystem's 'Les Djinns' (a remix so beautiful that in my opinion is worth the 750,000 kroner fine the original artists received for an illegal sample they used) – which were always going to be a challenge to match. But while his recent releases maybe haven't quite lived up to previous form, Trentemoller's production is still as precise and powerful as ever, making for another fine addition to his growing cannon.
7/10